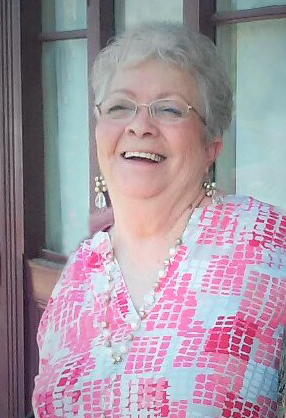 Heaven has truly gained another rose. Syble Joy Cambron, age 76 of Scroggins, passed away peacefully on Tuesday, February 13th, 2018 at her residence in Scroggins Tx. She was the loving wife of James H. Cambron for 25 years.
Syble was born on August 28th, 1941 in Winnsboro, TX to Edwin L. Banks and Ruth (Thomas) Banks. She brought joy to many people around Winnsboro while working as a waitress for many years and later became her husband's right hand man as his welder's helper. They traveled all over God's beautiful country working on the pipeline. She was well-known in her community as well as her place of worship. Syble was a long time member of Winterfield Baptist Church in Pickton, TX. Her priority was her family. Anyone who knew Syble would tell you she was the backbone of her family, a wonderful mother, wife, nana, fantastic cook, homemaker and someone you could always talk to and make you laugh.
She is survived by, husband, James H. Cambron, of Scroggins, six children, Sandra Powledge of Winnsboro, Belinda Ashley of Winnsboro, Debbie Holloway and son-in-law Michael Holloway of Pickton, Kathy Whitson of Mt. Vernon, David Rowell of Winnsboro, and Donny Rowell of Winnsboro, three grandchildren, John Wayne Collins, Dylan Ashley, and Kaylee Whitson, two great grandchildren, Caden Collins and Addison Collins, one brother, Raymond L. Banks of Longview and one sister, Virginia Sue Pohlman of Boerne, TX, along with many more family and friends who loved her dearly.
She was preceded in death by her parents, Edwin and Ruth Banks, grandparents, James and Alice Banks, grandparents Elige and Ollie Thomas, step sons Darrell Cambron and Michael Shane Cambron, and step grandson Christopher Cambron.
Visitation will be held on Saturday, February 17th, 2018 from 9:00 am to 11:00 am at Beaty Funeral Home-Winnsboro 816 W. Broadway Winnsboro, TX 75494. Funeral Services will follow at 11:00 am at the Funeral Home with Bro. Jack Culpepper and Bro. Troy Hollingsworth officiating. Pallbearers are Allen Screws, Dusty Allen, Grant Hornbuckle, Eric Hart, Joey Hart, and Scott Smith. Honorary pallbearers are Michael Holloway, Vernon Allen, Jeremy Reynolds, and Sean Whitson. Following the funeral home service, the family will hold a private interment at Smyrna Cemetery in Winnsboro.