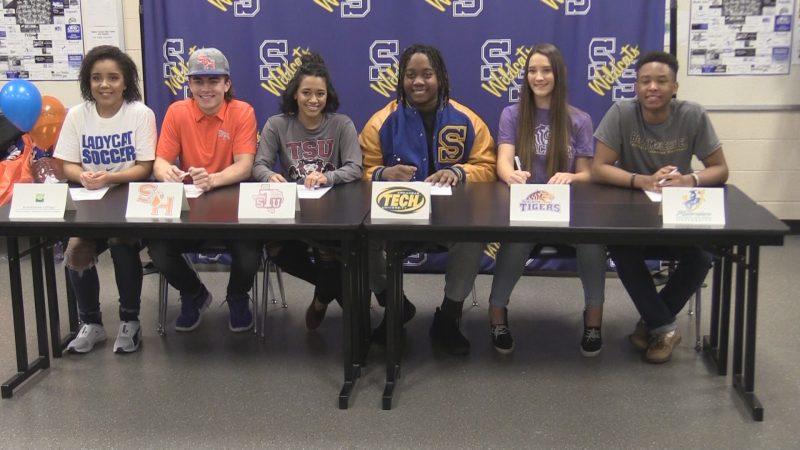 Humphries to SHSU
On National Signing Day Wednesday, Wildcats senior quarterback Ryan Humphries signed a letter of intent to play college football at Sam Houston State University in Huntsville. Humphries said he first talked with Bearcats' coaches early in his junior year. He also attended their camp this summer. Humphries said they called him after Christmas and told him they wanted him. He said he likes Huntsville. Humphries said he was recruited as a quarterback but he added they are aware of his versatility. Humphries also played as a receiver for the Wildcats. Humphries likes that Sam Houston has a good, solid football program. He said they are losing their main quarterback. Humphries expects to compete with 4 or 5 others for the starting job. He said the Bearcats run a spread offense adding they may throw the ball 50 times a game. Sam Houston is a member of the Southland Conference. Their big rival is Stephen F. Austin. Humphries said he also received some baseball offers but he said his heart was with football from the start. He plans to study business marketing.
Dugan to Ark Tech
Perhaps the heart and soul of the Wildcats defense, senior defensive lineman D'Idrec Dugan signed a letter of intent Wednesday to play college football at Arkansas Tech. Dugan said he liked the atmosphere there along with the school and the football players. Arkansas Tech is in Russellville. Dugan said there are also some lakes near the city. Dugan said he was recruited as a defensive end. He said Arkansas Tech has a good team finishing 8-3 last year. Dugan said Arkansas Tech defeated Harding, a school that went to the semi-finals in the playoffs. Dugan feels he can be a starter this year if he works hard. He said he plans to major in engineering or business management.
Turman to So. Ark
For quite a few years now, Terrell Turman has been a starter at cornerback for the Wildcats. Wednesday, on National Signing Day, Turman signed a letter of intent to play college football at Southern Arkansas. He admitted Southern Arkansas was not on his radar until they talked to him. Turman said when he visited the university at Magnolia, he knew he had found a football home. He said the coaches were honest with him. They were looking for a cornerback and said he could start right away. Turman said he likes the challenge of playing on the corner and he called it the toughest position to play in football. Turman said playing college football has been one of his goals for some time now. He plans to major in accounting and take the CPA test.
Hollins to TSU
Lady Cat softball player Macee Hollins signed a letter of intent Wenesday to play college softball at Texas Southern University in Houston. She said they saw her play in a tournament her sophomore year. Hollins visited the campus in the fall and she said she liked the coaches and the girls on the team. She said she was recruited to play in the outfield. Hollins said she plays left field and center field for her travel team. She did a lot of catching for the Lady Cats last year but Hollins left no doubt she prefers the outfield. She said coaches have not yet decided whether she will hit from the right side or left side at TSU. Hollins said she wasn't sure if she would be able to start right away noting that Texas Southern is pretty good. She said they have won several championships. Hollins said she has always wanted to play softball in college. She said she might have to transfer at some point to achieve her career goal. Hollins wants to go into nursing and she said Texas Southern does not have a nursing program.
Kagar to Ouachita
Makenna Kagar is a four year starter for the Lady Cats' soccer team and Wednesday she signed a letter of intent to play soccer at Ouachita Baptist University in Arkadelphia, Arkansas. Kagar said she first learned about Ouachita from research from her club team. Kagar said Ouachita watched her in a club team tournament and then contacted her. She said she made two visited to the campus and found a great atmosphere and a beautiful campus. Kagar said everyone made her feel welcome there. She said Ouachita has a great program. Kagar called Arkadelphia a nice town. She said she expects to earn her playing time with hard work. They intend to have Kagar play forward. She plans to major in biology. Lady Cats Coach Joel Bailey called Kagar a valuable player with quality experience and a club background. He called her a vocal leader who also leads by example. Coach Bailey also called her a goal scorer. Concerning college, Coach Bailey said Kagar would fit in and be valuable from day one.
Zirretta to Brookhaven, Signed Tuesday
Mileena Zirretta, a four year starter and prolific goal scorer for the Lady Cats' soccer team, signed a letter of intent Tuesday (February 6) to play soccer at Brookhaven College in Farmers Branch near Dallas.