As the first of its kind in Hopkins County, the Freedom Ball will honor and celebrate military Veterans during an evening of dinner and dancing. The Freedom Ball, at the Cedar Canyon Event Center at 6:00 pm on Saturday April 7, 2018, is a black-tie event with military uniform optional. Emcees Carrie Nuckols and John Sellers will introduce members of the Memorial Committee who will review their mission of engraving additional veterans names on the wall and present the vital importance of the preservation and maintaining of the Veterans Memorial that has become a destination for hundreds of visitors to Sulphur Springs every year.
Funds raised by the Freedom Ball will provide money for verifying and etching names on the memorial wall for the remaining 1000-1500 veterans not sponsored as well as to begin a perpetual fund contribution for maintenance/repairs of the memorial and kiosk. The event is set to breathe new life and interest into the Veterans Memorial.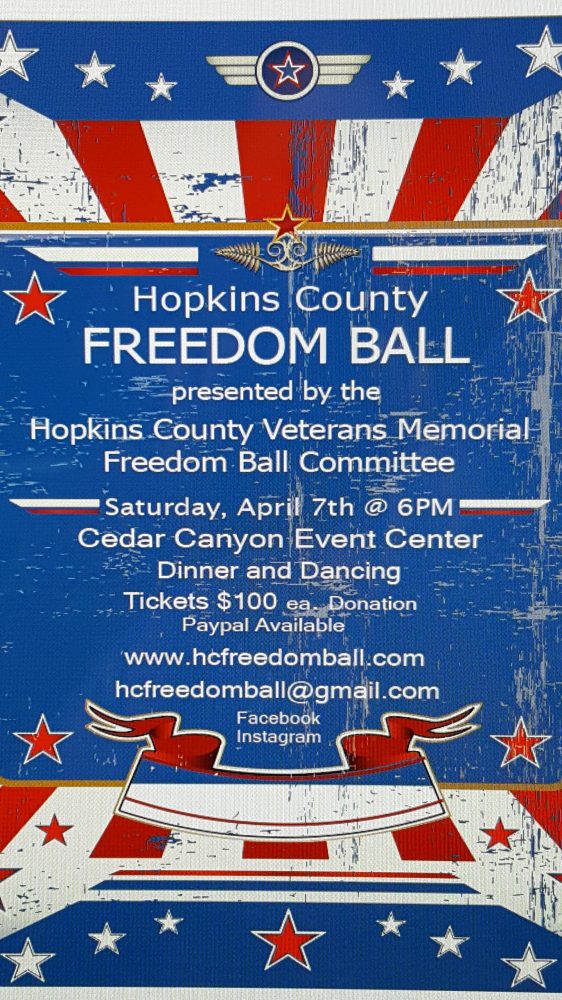 Tickets are available for a $100 donation. The ticket price includes a catered meal and music for dancing. Music will be provided by the Kelley Fletcher Orchestra and by the Monty Tipps and Main Street Band. Valet parking will be provided. There are sponsorships available for Veterans in need of assistance to attend the Ball. Contact the Freedom Ball committee at hcfreedomball.com, Facebook or [email protected] or call the Freedom Ball Committee Chair Danny Davis, Veterans Service Officer, 903-439-1065.