By Jan Vaughn
Edna Earle Dove Patterson, was buried in the Tira Cemetery on Thursday, January 11th. Her funeral was under the direction of Byrum Funeral Home in Lancaster, Texas. Please remember the family in your prayers.
Yvonne Weir's cousin, Stacy, was killed in a motor vehicle accident in Michigan on Thursday. Please be in prayer for Yvonne and her family.
Sarah and Lucas spent the weekend with the Weirs on Saturday. Lucas and Wesley bowled with "My Heroes". Yvonne comments, "We played lots of Canasta Saturday night and Sunday. We took Wesley to Greenville for laser tag and games on Monday"
Kim Beck reports, "Maddie Beck wrote the screenplay for a movie named 76105 that premiered on Martin Luther King Day at Texas Christian University. The inspirational film is the story of how an awesome group of men returned to an impoverished community to help revitalize it and help mentor young men by example." Kim adds that she and Lee "trekked to Ft Worth to catch opening night on Monday and made a mad dash home before the sleet and snow came." She comments, "Maddie is a senior film major at Texas Christian University and we are so proud of this outstanding accomplishment. They will be submitting their finished product at many film festivals."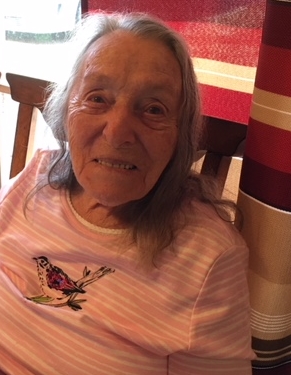 Chip and I hosted a small family gathering on Saturday, January13th,  for his mother, Grace Vaughn, in honor of her 97th birthday, which was coming up on the 18th. Guests were treated to taco salad and dessert. Chip's mother and sister, Grace and Linda Ellen, and our daughter and granddaughter, Tiffany and Jaidyn, joined us for lunch on Sunday.
On Saturday, January 6th, Chip and I took our great-granddaughter, Dixie, back to her home near Beaumont. She had spent the week with Landon, Laiken, Rylan, Brailon, and Slaiden Joslin. After dropping her off, Chip and I drove to Conroe and spent the night at Piney Shores Resort before returning home, by way of Tyler on Sunday.
North Hopkins delayed the start of school on Tuesday, in anticipation of the winter storm that was predicted. Thankfully, we avoided the hazardous road conditions that some experienced in other areas of our state.
I always need and appreciate input from my friends to help keep me informed of news in our community. If you have any news pertaining to Tira residents, past or present, please contact me, Jan Vaughn, at 903-945-2190 or 903-438-6688 or [email protected].