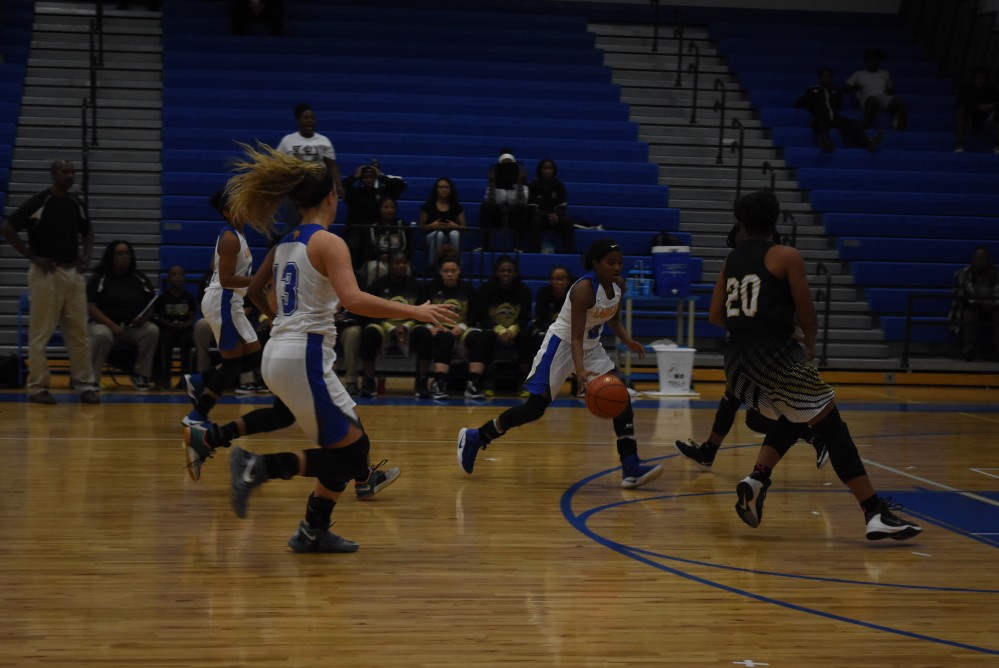 The #9 Lady Cats' basketball team broke open a close game with strong scoring in the second and third quarters to defeat Greenville, 63-32 Tuesday night in Greenville. It was the Lady Cats fifth win in a row.
The Lady Cats led only 9-6 after the first quarter. They outscored the Lady Lions, 17-7 in the second quarter to take a 26-13 halftime lead. The Lady Cats outscored Greenville, 20-4 in the third quarter and the Lady Cats were up 46-17 after three. The Lady Cats just outpointed the Lady Lions, 17-15 in the fourth quarter to make the final score, 63-32.
Sadavia Porter had 25 points to lead the Lady Cats. Kaylee Jefferson added 15 points. Autumn Tanton scored 8 points. Imani Taylor had 7 points. Jamia Hall and Te'Arria Rose scored 3 points each. Danielle Godbolt had 2 points. The Lady Cats shot a solid 50% from the field sinking 27 of 54 shots. The hot shooting from 2-point range made up for an 0 for 7 night shooting three-pointers. The Lady Cats also made less than half of their free shows sinking 9 of 19 for 47%. The Lady Cats grabbed 27 total rebounds including 16 offensive boards. Godbolt got 7 rebounds and Jefferson had 6. The Lady Cats had 10 assists and Jefferson led the team with 4. The Lady Cats had 8 deflections and 20 steals. The Lady Cats committed only 11 turnovers.
Lady Cats Basketball Coach Jeff Chapman acknowledged his team got off to a slow start against Greenville Tuesday night on the road before putting things together in big second and third quarters to take a 63-32 win. Coach Chapman said Greenville did some different things Tuesday night and he said he wasn't surprised since it was the second time around for the two teams. He said the Lady Lions were determined to limit Kaylee Jefferson's scoring.
Coach Chapman said his team had to figure out other ways to score. Coach Chapman said even Porter struggled some at first. She and the rest of the team were a combined 0 for 7 from behind the three-point line. Coach Chapman said he was more concerned with the team's free throw shooting. The Lady Cats hit 9 of 19 for 47%. He said making free throws is a key factor in games. Coach Chapman was pleased to see the Lady Cats turn over the ball less than they have in the two previous games. They had 11 turnovers Tuesday night.
The #9 Lady Cats improved their first place district mark to 7-0 and their season record to 21-3. Next the Lady Cats take on Hallsville in Wildcats Gym Friday night. The Lady Cats defeated Hallsville on the road, 73-26 back on December 15.