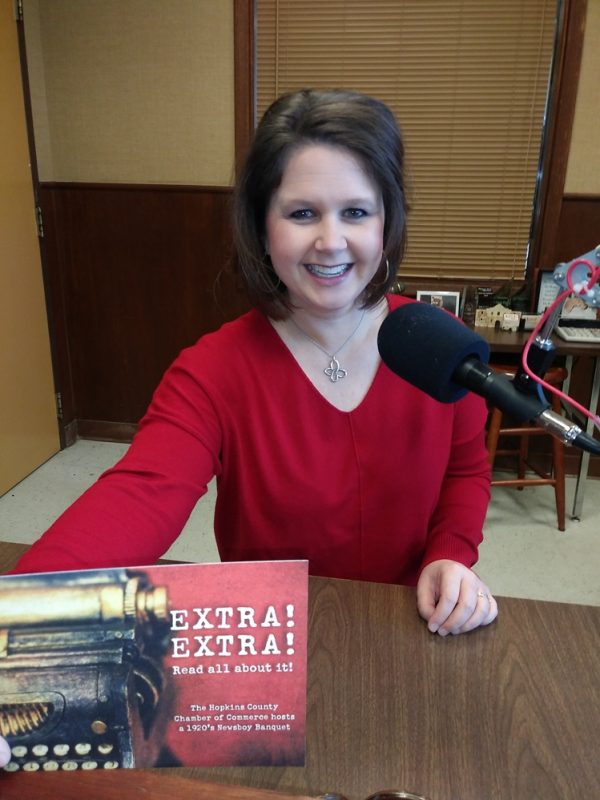 Lezley Brown, CEO of the Hopkins County Chamber of Commerce, is excited about the annual Membership Banquet on February 15, because besides the coveted awards that will be the focal point of the evening, it is planned to be a fun, enjoyable evening for the community.
Every Chamber of Commerce banquet has a theme, and this year's selection is  a "1920 Newsboy" theme complete with Roaring 20's dress (optional) as well as a banquet meal themed from that era. The buffet will feature ham, chicken, garden-fresh vegetables and buttermilk pie. The evening will begin at 6:30pm.
Tickets are available at the Chamber office at 300 Connally Street or by e-mail at [email protected] Individual ticket prices are $30, and tables seating 10 are available for your entire party, employees or club members at $500 per table.
The business strength that the Chamber brings all year through education and support of member merchants is celebrated during the Chamber Banquet. Plan to join merchant and individual members, ambassadors, board members and Chamber volunteers at this exciting event. Be there to find out who is honored with the title of Citizen of the Year, Woman of the Year, Educator of the Year, Large Business and Small Business of the Year, Agriculturist of the Year and Caregiver of the Year as well as numerous other community designations. Contact the Chamber for details at 903-885-6515.