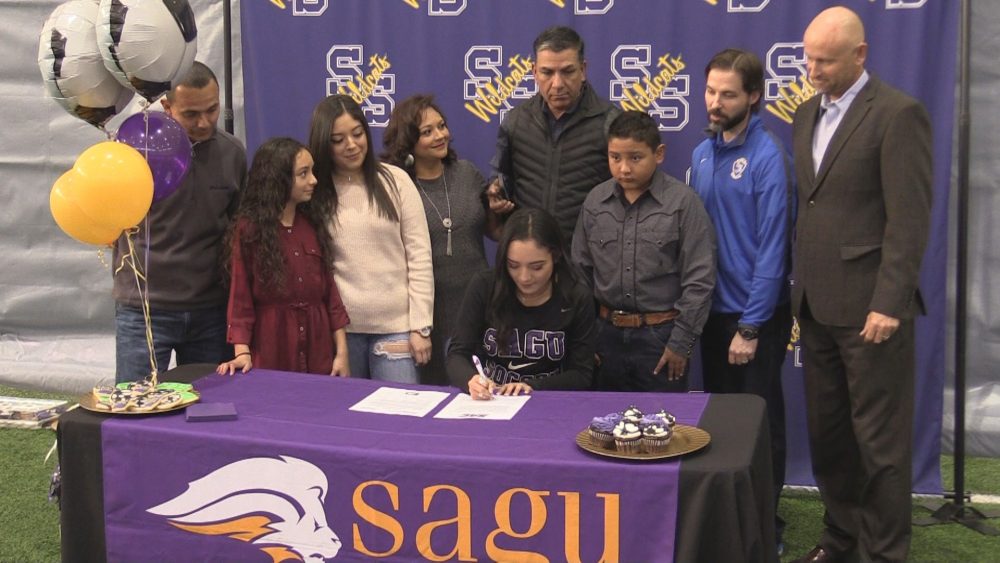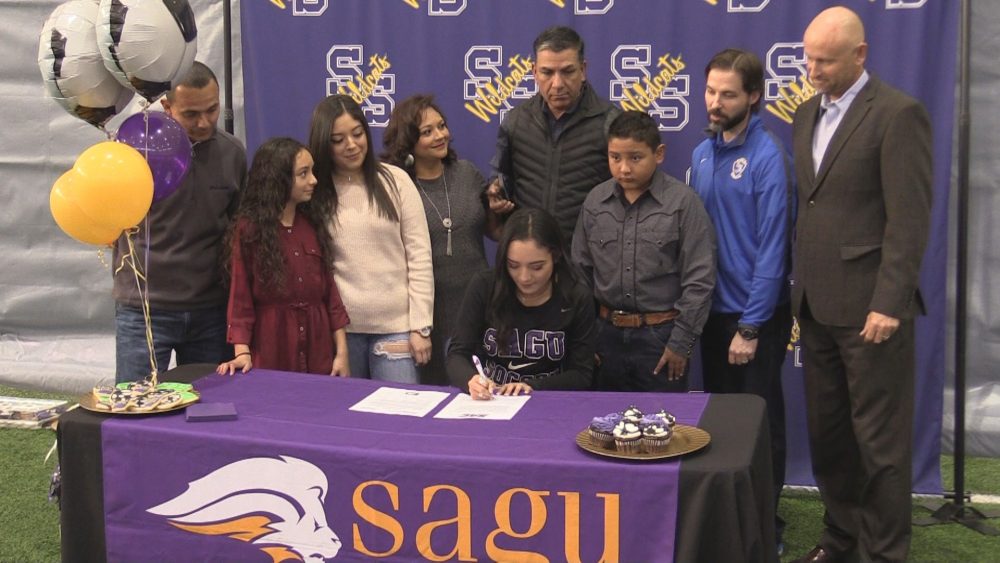 Lady Cats' soccer play Erika Lara has signed a letter of intent to play soccer and to go to school at Southwestern Assemblies of God University in Waxahachie. The signing took place on the practice field in the Multipurpose Building Thursday morning (December 14). The signing was attended by many of Lara's Lady Cats' teammates.
Erika is the daughter of Juan and Gloria Lara. SAGU is a four-year school that competes in NAIA Division 1 in the Sooner Athletic Conference. Lara said SAGU Lions Coach Paul Hason saw her play in a showcase tournament. Lara said she liked team members and the campus. She said the Lions have done well. Lara said she plans to study criminal justice and to become a lawyer.
She said she has high hopes for this year's Lady Cats' team. Lara wants the Lady Cats to win district and to play as long as they can in the playoffs. Lady Cats Coach Joel Bailey said he was proud of Lara adding it is an honor to play at the collegiate level. He said he would like to take a bus of his players to see Lara play. Lara's club coach from Plano was also present. He called Lara a hard worker. He gave credit to father Juan for bringing her to practice an hour and a half away several times a week.
SAGU Soccer Coach Paul Hason, in his second year, said his team broke all school records last year making it to the final four before losing in a semifinal game. He said he was excited to have Lara. Lara plays center back for the Lady Cats and Coach Hason said he intends to keep Lara on defense. He said no one gets by her. Coach Hason said Lara sacrifices her body to keep players away from the goal. He said she has grit and he added that's a characteristic he looks for in players. Coach Hason said Lara will be part of a good class of recruits.