USAF procurement of the Boeing 707 was very limited, amounting to three Model 707-153s designated VC-137A's serial numbers 58-6970, 58-6971 and 58-6972. When delivered in 1959 these had four 13,500 lb  dry thrust  Pratt & Whitney J57 (JT3C6) turbojets; when subsequently re-engined with 18,000 lbf  dry thrust TF33-P-5 (JT3D) turbofans they were redesignated VC-137B.
The first presidential jet plane was known as SAM (Special Air Missions) 970. This aircraft, as well as any other Air Force aircraft, carried the call sign "Air Force One" when the president was aboard. Delivered in 1959 to replace Eisenhower's Super-Constellation, the high-speed jet transport was a flying Oval Office with a modified interior and sophisticated communication equipment.
Jet technology gave a president the opportunity to meet face-to-face with world leaders easily. SAM 970 has carried presidents Eisenhower, Kennedy, Johnson, and Nixon as well as VIPs such as Nikita Khrushchev and Henry Kissinger.
By 1962, SAM 970 was replaced by a newer Boeing VC-137C 62-6000. But SAM 970 remained in the presidential fleet ferrying VIPs and the Vice-President until June of 1996.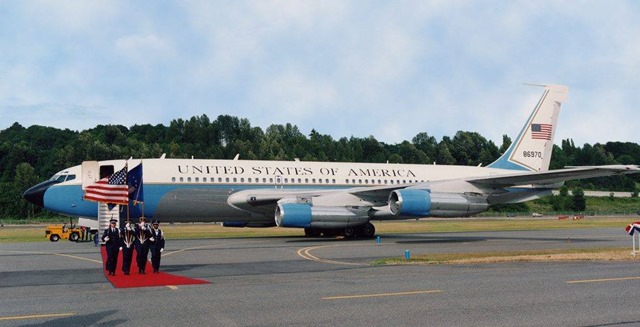 Though she never was designated the official "Presidential aircraft," she served as Air Force One many times and saw her share of history. (Columbine III, a Lockheed Super Constellation, retained that designation until the end of Eisenhower's administration and a DC-6 known simply as '3240 served for the first years of Kennedy's administration.) Without President Eisenhower's knowledge, the CIA outfitted '970 with secret reconnaissance cameras in preparation for his planned trip to Moscow. That trip was scuttled, ironically, because of the shooting down of Francis Gary Powers in his U-2 spy plane over the USSR on May 1, 1960. In 1962 '970 carried John Glenn to Washington the day after his orbital flight, and in the early 1970's she (and 62-6000) shuttled Henry Kissinger to Paris for the secret peace talks with North Vietnam. After the delivery of Aircraft 62-6000, '970 was relegated to service as backup, but in the process shed her plain Air Force markings in favor of Loewy's striking blue and white livery. Affectionately known as "Queenie", '970 retired with full military honors to the Museum of Flight in Seattle on June 18, 1996.
E-Systems in Greenville, TX performed depot maintenance on SAM 970 beginning in 1973 through 1994.
The included information comes from local Sulphur Springs resident Tony Hughes. Mr Hughes worked on, performed engine run up, pre-flight/post flight and flew as an aircraft mechanic observer on FCF's (functional check flight) at the Greenville, Tx. plant, formerly known as TEMCO. The Greenville plant started as Temco (Texas Engineering & Manufacturing Co.) then changed to Ling-Temco Electronics, Inc. in 1960, then Ling-Temco-Vought, Inc. in 1961. The company then changed it's name to LTV Electrosystems, Inc. in 1965, then E-Systems, Inc. in 1972. A merger changed the name to Raytheon E-Systems in 1995, and now the company has been managed by L-3 Communications since 2002.