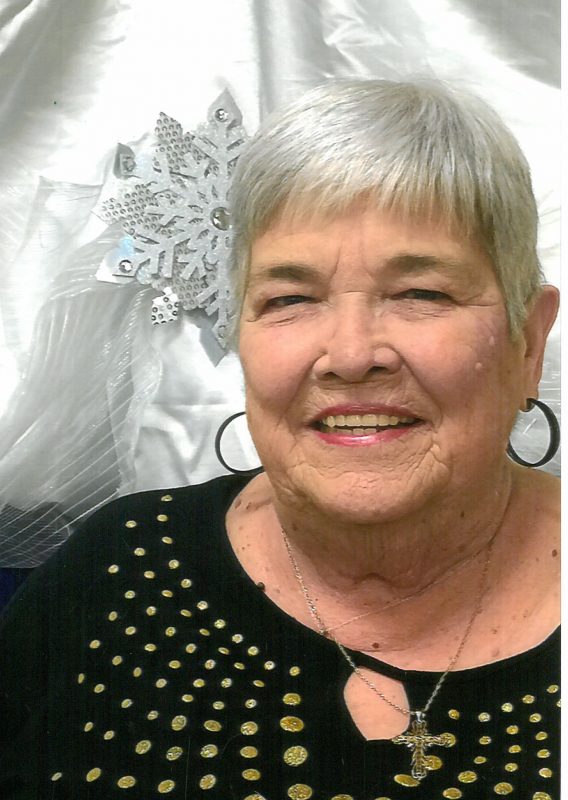 Memorial Service for Linda Sue "Gomma" Patrick, age 75, of Sulphur Springs, will be held at 2:00 P.M. on Thursday, November 9, 2017 at Lake Highlands Baptist Church with Steve Collins and Paul Ray Vititow Jr. officiating and Larry Vititow, Eddie Morton, Chuck McCord, Lee Pogue, Kyle Tate, Brian Bell, Donnie Lewis and Archie Lindley serving as honorary pallbearers.  Visitation will be held one prior to the service.  Ms. Patrick passed away on Monday, November 6, 2017 at Dallas Baylor University Medical Center, Dallas, TX.
Linda Sue Patrick was born on October, 30, 1942 in Cooper, Texas, the daughter of Amos and Gladys (Bangs) Gibbs.  She married Paul Ray Vititow Sr, whom preceded her in death in 1967, she then married Rickey Patrick.  Linda worked in sales at Northeast TX Janitorial Supply for over 20 years and was a member of Lake Highlands Baptist Church.
She is survived by her sons, Paul Ray Vititow Jr and wife, Shellyl of Sulphur Springs, Jeff Vititow of Mt. Pleasant, Mark Patrick and wife, Jenna of Lewsville Texas; daughter, Stacey Patrick and husband, Steve of Sulphur Springs; special daughter, Kris Vititow; grandchildren, Cara Thompson and husband, Geoff, Afton Vititow and husband, Nathan McWhorter, Dakota Vititow, Corey Cole and wife, Terra, Lexey Patrick, Roan Adair, Sailan Adair, Shawn Bryan and wife, Tiffany, Skye Phillips and husband, Mark, Chelsea Clark, MaKenzie Clark, Grae Clark, Reagan Humphries, Hesston Humphries, Caleb Bagwell; great grandchildren, Karsyn Roberts, Claire Thompson, Maggie Thompson, Libbi Thompson, Brooke Bryan, Katie Bryan, Matthew Bryan, Rowen Clark, Timberley Hart, Braven Phillips; brothers, Larry Gibbs of Sulphur Springs, Lendy Gibbs of Dallas; sisters, Sarah Gibbs, Linda Hintz and Carol Gibbs of Sulphur Springs.
Linda was preceded in death by her parents; husband, Paul Vititow; brother, Lonnie Gibbs; daughter Paula Sue Vititow.
Memorial Requests can be made to "Be The Service" at Way Bible Church 874 Farm Road 2560, Sulphur Springs, TX 75482 or Northeast Texas Food Bank, 217 Linda Drive. Sulphur Springs, TX 75482.
Funeral arrangements are under the direction of Murray-Orwosky Funeral Home.