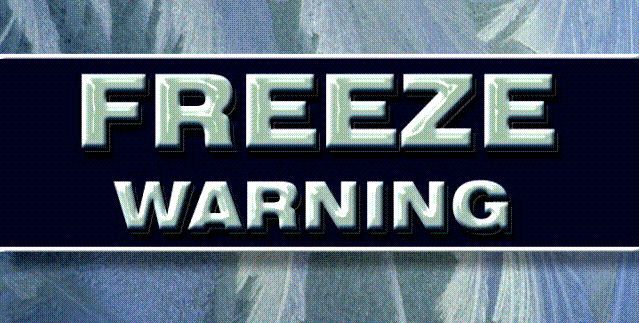 Hopkins County and surrounding counties have been placed under a Freeze Warning for Friday night and Saturday morning.
Much colder air will continue to filter into North and Central Texas today on gusty north winds behind a powerful cold front. The coldest night of the fall is expected tonight, and subfreezing temperatures are anticipated for parts of the area. The freeze watch has therefore been upgraded to a freeze warning.
The freeze warning is in effect from 1 a.m. to 9 a.m. Saturday, October 28. Low temperatures of 30-33 degrees are expected late tonight and Saturday morning. Sensitive plants may be damaged or killed if left unprotected Friday night and Saturday morning. Some frost may also occur where temperatures do not quite reach freezing.
A freeze warning means the seasons first episode of sub-freezing temperatures are likely to occur. These conditions will kill sensitive plants and residents are advised to protect tender vegetation. Automatic sprinkler systems should also be turned off to avoid creating ice patches on nearby roads, driveways, and sidewalks.