Just a Reminder about the rest of the October events and the November Events.  See attached Flyers with November Events and November Calendar.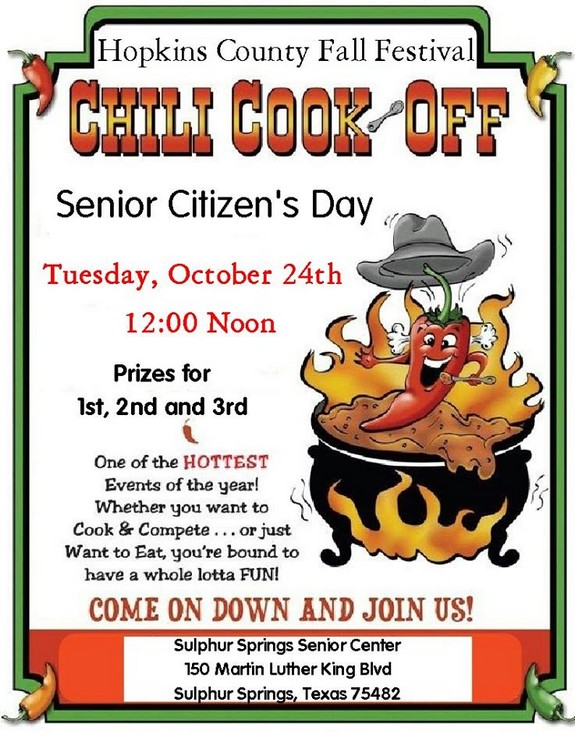 1)  
Senior Citizens Day at the Fall Festival  

Tuesday, October 24th

 

12:00

 Chili Cook Off.  T
he Event will be held at the Senior Citizens Center again this year.  I have 15 Pots of Chili for you to come and eat all you want.  There will be 5 Judges from the Community here to judge all of the Chili.  Your job will just be to sample as many as you want. I will be serving Crackers along with the Chili.   I will also have Drinks and Dessert.  All of this is FREE to you.  Just come eat and enjoy.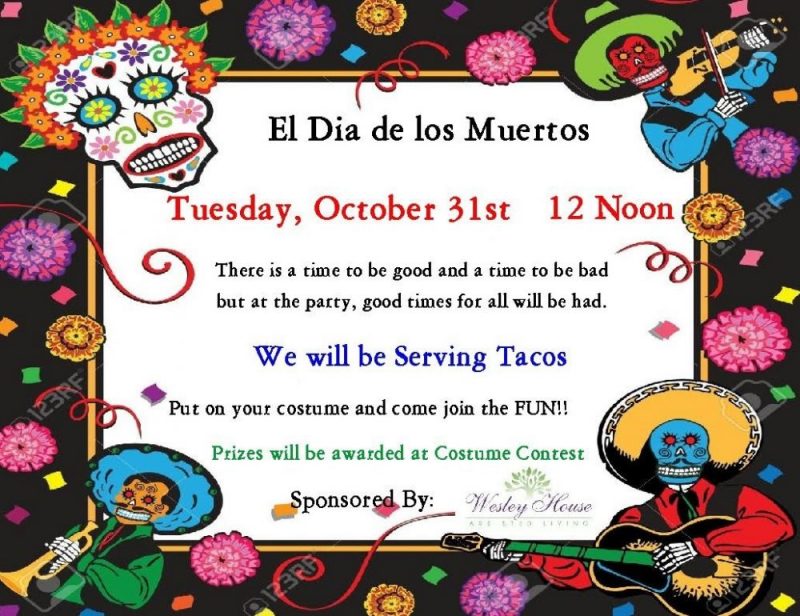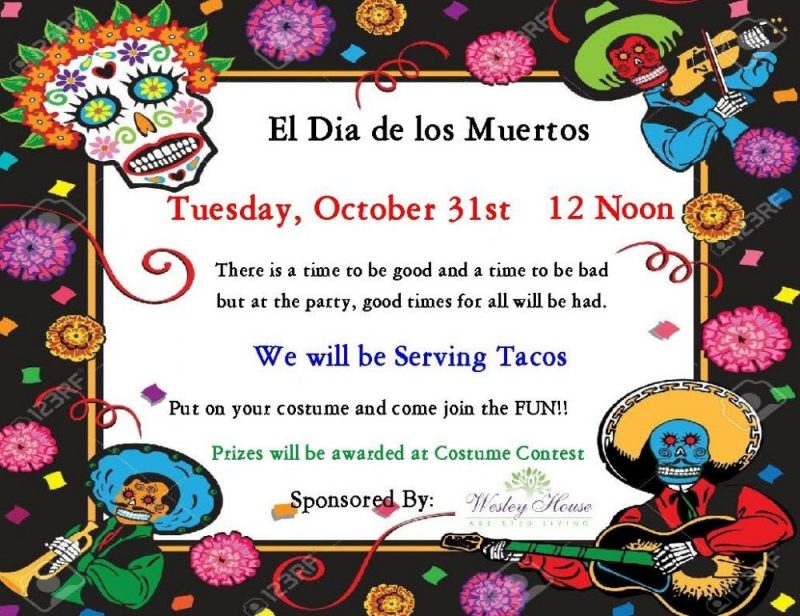 2)  
Halloween Party 

Tuesday, October 31st at  Noon

.
  The theme is"El Dia de los Muertos"   Which means Day of the Dead in Spanish. This event is sponsored by Wesley House Assisted Living and will be held at the Senior Citizens Center.  I will be serving Tacos and Tres Leches Cake for Dessert.  Come dressed in your favorite costume and join us for lunch.  There will be prizes for:  Most Original Costume, Scariest Costume, and Best All Around Costume.  At Home Health Care is sponsoring the Costume Contest.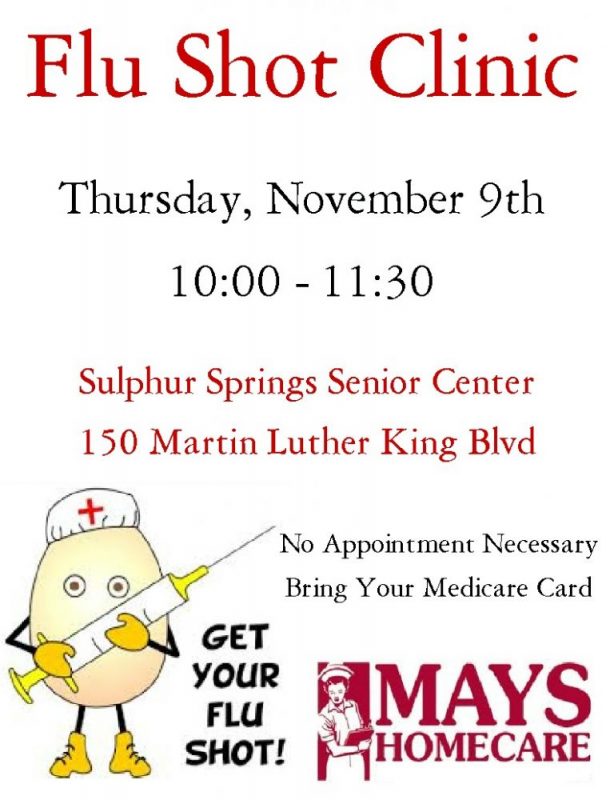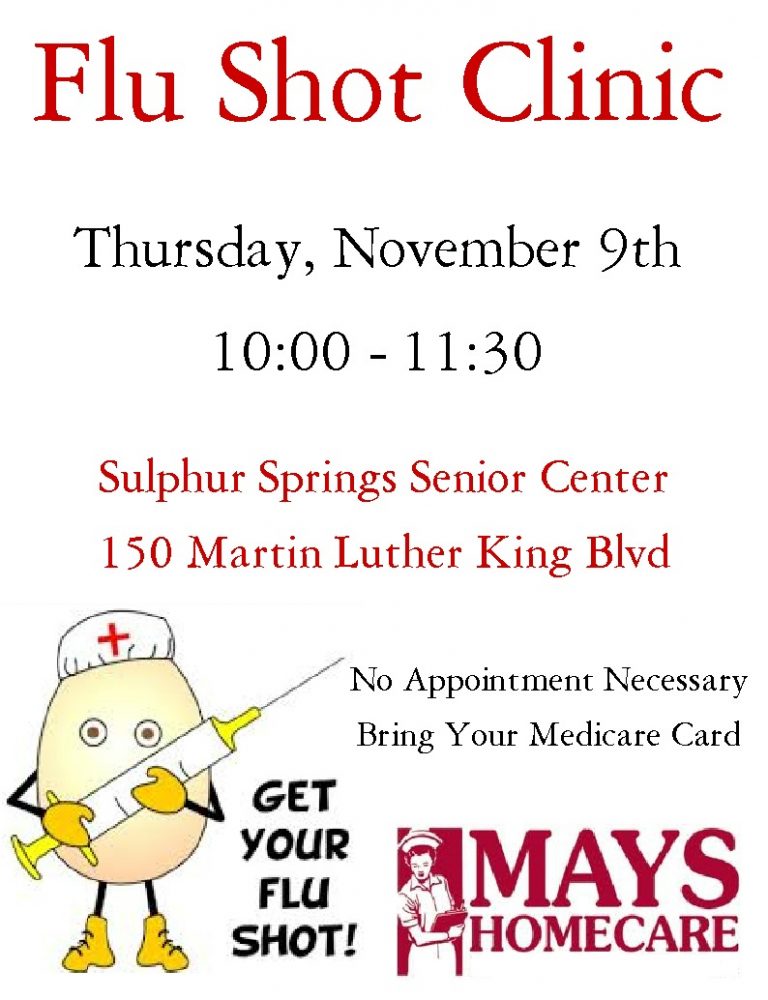 3) 
I have scheduled a "Flu Shot Clinic" on Thursday, November 

10:00

 – 

11:30

.   
If you haven't had your Flu Shot come by and get it..  May Home Health Care will be here giving the shots.   Bring your Medicare Care Card.  I talked to Dr. Kosub today and she told me that they are already see cases of the Flu coming in to the Clinic.  She said everyone needs to WASH THEIR HANDS A LOT to keep the germs at bay.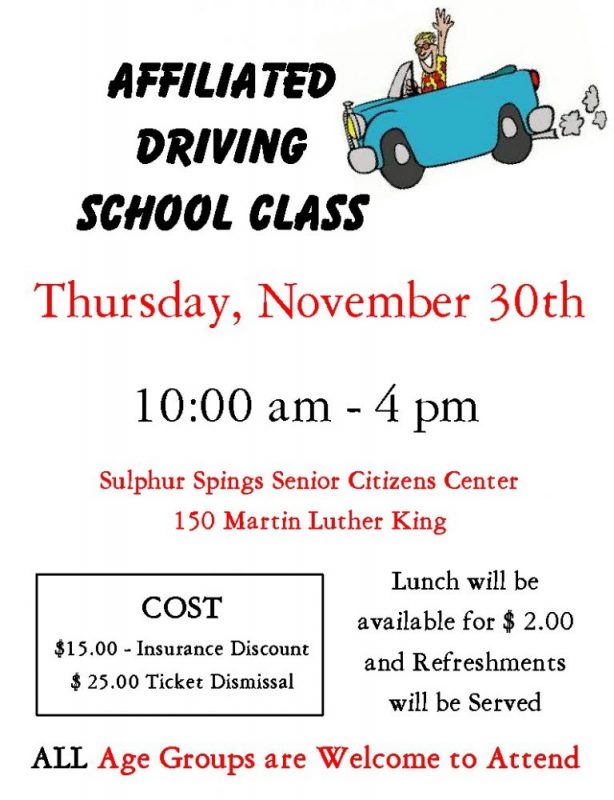 4) 
 Affiliated Drivers Training Class will be on 

Thursday, November 30th

 from 

10:00 – 4:00

.  
This class is good for a Ticket Dismissal or
10% Off of your Liability Insurance.   The class is good for 3 years.  It is a fun and interesting class that will keep you updated on all of the new traffic laws and refresh your memory on all of the old ones. The class cost $ 15.00 for the Discount on your Liability Insurance and $ 25.00 for a Ticket Dismissal.   This class is open to ALL AGES.  Please pass the word on to all of your friends and family.  You can save a lot of money with the Liability Discount.
For More November Events Check out the Calendar below: