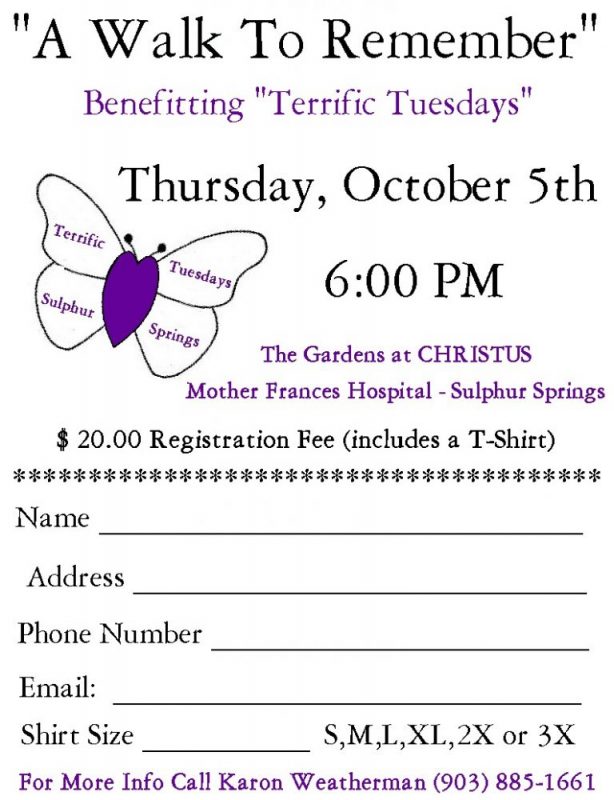 Each of the Nursing Homes, Assisted Livings and the Senior Center are in a contest to see who can raise the most money for the walk. Funds are raised by Selling T-Shirts, Raffle Tickets and different Fund Raisers that they hold on their own to raise funds that are all tallied together for a Grand Total and the night of the Walk. The winner gets the "Spirit Award" which is a Perpetual Plaque with their name engraved on it and it will be passed on to the next winner each year. They will get to hang it up in their Facility until the next campaign.
We have a Quilt that is being raffled off that was donated by Bill Ruff. We are also working on a couple of Gift Card Baskets to Raffle off that merchants from around town have donated. The Avon Ladies, Patsy Cowan and Margie Giger, are supposed to have another big Basket of Avon products to raffle off again this year.
Below is a list of T-Shirt and Booth Sponsors for the "A Walk To Remember" Campaign. T-shirts will be available Thursday Morning.  The Walk Registration is $20.00 and includes a T-Shirt. Many T-Shirt Sponsors will have booths along the Walk Path with information and Goodies to pass out. Shirts will be worn at all of the Mini Walks that start on Tuesday, September 19th beginning with the Terrific Tuesdays Group.
The Goal every year is $ 10,000.00. It takes this much to keep Terrific Tuesdays going for another year. This is the ONLY fundraiser that we have all year for Terrific Tuesdays.
It is a wonderful and worthy cause.
I would like to say "THANK YOU" to all of our T-shirt and Booth Sponsors that make the walk Possible. I would like to say "Thank You" to everyone that I know that will donate and purchase raffle tickets so we can raise and surpass our goal of $ 10,000.00.
Karon Weatherman
Program and Marketing Director
Senior Citizen's Center
150 Martin Luther King Blvd
Sulphur Springs, Texas 75482
(903) 885-1661
Sponsors for "A Walk to Remember"
Sulphur Springs Senior
J&M Signs and Screen Printing
Hopkins Place Assisted Living
Brian Toliver Ford
Alliance Bank – Sulphur Springs
Rock Creek Health and Rehab
In Honor of Aunt Bessie Husner by Pamela Johnson
Legacy Hospice
Wesley House Assisted Living
Wesley Oaks Memory Care
The Community Chronicle
Kindred Hospice
Sunny Springs Nursing and Rehab
Jordan Health Services / CIMA Hospice
Snap Fitness of Sulphur Springs
Pilot Club of Sulphur Springs
Hopkins County Marketers Association
Outreach Home Care
Grocery Supply and Fidelity Express
Centric Home Health and Hospice
Sulphur Springs Imaging Center
City National Bank – Sulphur Springs
Sulphur Springs Health and Rehab
United Healthcare Community Plan
In Memory of our Mother Mildred Z.
Germania Insurance – Gloria Mitchell
Jay Hodge Motors
Car Mart – Sulphur Springs
Ross & Shoalmire – Elder Law
Cypress Basin Hospice
Saputo
1st Choice Home Health
Heart To Heart Hospice
Celebrate Living Realty