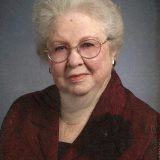 Bessie Justiss Cason was born at the cotton gin at Snow Hill, TX, on February 7, 1915. She graduated in the class of 1934 and was the oldest living alumni of Dangerfield High School. She attended Abilene Christian College (now Abilene Christian University) in Abilene, TX. She married Olin Eugene Cason on November 17, 1946, and they lived their entire married life in Dangerfield and Atlanta, TX. She loved being a homemaker and was a faithful member of the Church of Christ.
Her favorite place on this earth was the family cabin on Caddo Lake. She and her extended family spent many joyful vacations there. After his retirement, she and Eugene traveled extensively with her siblings and friends in their RV's.
Bessie passed from this life on Monday, September 11, 2017, at the age of 102.
She is preceded in death by her parents, Joe and Willie Justiss; her husband, Eugene; and her 11 brothers and sisters.
She is survived by her son, Scott, and wife Arlene, of Tom Bean, TX: daughter, Lowe Ann, and husband Gerald, of Winnsboro, TX; and daughter Carolyn, of Hallsville, TX, 6 grandchildren and 11 great-grandchildren. She is also survived by her sister-in-law, Thelma Justiss; brother-in-law, Jimmy D. Teague; and many nieces, nephews, and friends.
Graveside Service will be held on Thursday, September 14th, 2017 at 10:00 AM in the Snow Hill Cemetery between Mount Pleasant and Dangerfield, TX, on Hwy 49.