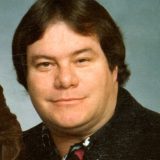 William "Bill" Clint Faith, age 67 of Winnsboro, passed away on Saturday, August 26th, 2017 in Tyler. He was born on August 17th, 1950 in Fayetteville to the late William Clint Faith, Sr. and Joy Leake Faith. He was an x-ray technician and retired in 2012. Bill was a active member of Grace Baptist Church of Mt. Pleasant and longtime member and Sunday School Teacher at First Baptist Church in Winnsboro.
He is survived by is loving wife Betty Faith of Winnsboro and may caring friends and family.
A Memorial Service will be held on Saturday, September 2nd, 2017 at Beaty Funeral Home-Winnsboro 816 W. Broadway Winnsboro, TX 75494 at 11:00 am, Bro. John Green conducting.