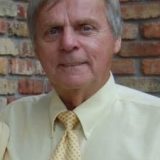 Graveside services for Richard Robert Francis, Sr., 76, of Sulphur Springs, will be held at 4:30 p.m., Friday, August 25, 2017 at Sulphur Springs City Cemetery with Bro. Fred Lewis officiating. Honorary pallbearers will be Aaron Davis Canada, Tyler Wayne Francis, Jason Swanson, Shelby Swanson, Marlee Canada, McKenzie Francis, Tyler Kimbro, Kendal Kimbro, and Frankie Francis. There will be no formal visitation. Richard passed away on Thursday, August 24, 2017 at his residence.
He was born on November 27, 1940 in Detroit, MI to Frank and Marion Gorecki Francis. He married Alice Pogue on August 5, 1980 in Oklahoma. She survives. Richard was a member of First Baptist Church, he owned a gas station, and later retired from farming.
In addition to his wife, Richard is also survived by children, Richard James Francis, Jr., Frank Samuel Francis, Gina Catherine Hicks, James Hasaell Gill, grandchildren, Tyler Wayne Francis, McKenzie Francis, Frankie Francis, Tyler Kimbro, Kendal Kimbro, Aaron Davis Canada, Shelby Leigh Swanson, Marlee Rayanne Canada, Blake Hicks, Brett Hicks, Marissa Hicks, Heather Watson, Michael Manning, siblings, Donald Francis, Aurthur Francis, Bernie Beauchaine, Gloria From.
A thank you goes to his special caretakers Lawanda Wood, Jennifer Harris, and Inez Julian.
He is preceded in death by his parents, children, Amy Gill Wood, Anthony Scott Gill, siblings, Gerald Francis, Patricia Grandner, and Delphine Danovic.
Arrangements are under the direction of West Oaks Funeral Home.