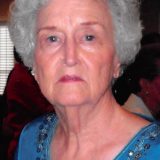 Funeral services for Peggy Gaw Watts, age 86, of Sulphur Springs will be conducted at 11:00 a.m., Tuesday, August 22, 2017 at Spence Chapel, First Baptist Church with Bro. Tommy Johnston officiating.  Interment will follow at Restlawn Memorial Park with Brent Guldahl, Greg Guldahl, Jeff Rorie, Ashby Spruiell, Kyle Barnett and Dallas Campbell serving as pallbearers.  A visitation will be held at 10:00 a.m., one hour prior to service time at Spence Chapel.
Peggy passed away on Friday, August 18, 2017 at Hopkins Place Assisted Living.  Peggy was born on February 26, 1931 in Iowa Park, TX, the daughter of William Lee Gaw and Kitty Kelly Gaw.  She married Dale Gibson Watts on October 13, 1951 in Big Sandy, TX.  He preceded her in death on June 10, 2016.  Peggy was a homemaker, an Auxiliary Volunteer at Hopkins County Memorial Hospital for 40 plus years, and a member of First Baptist Church.
She is survived by two daughters, Marque Guldahl and husband Walter of Rowlett, Shelia Rorie and husband Joe of Sulphur Springs, grandchildren, Brent Guldahl and wife Angie, Greg Guldahl, Jeff Rorie and wife Kensey, Brittney Spruiell and husband Ashby and Courtney Rorie, great-grandchildren, Lyla Guldahl, Landry Guldahl, Rorie Spruiell, Maggie Spruiell, Kyle Barnett, Payton Barnett, and Jacy Barnett along with numerous nieces and nephews.
In addition to her husband, she was preceded in death by her parents, brothers, Billy Gaw, Bruce Gaw and Durwood Gaw.
Arrangements are under the direction of West Oaks Funeral Home.