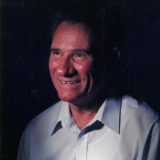 Funeral service for Johnnie "J.P."  Emerline, age 78, of Sulphur Springs will be held at 11:00 A.M. on Saturday, August 26, 2017, at Murray-Orwosky Funeral Chapel with Daniel Olsen officiating.  Interment will follow at Pilgrim's Rest #1, Emory, Texas with Roy Spence, Wendal Clawson, David Padilla, Claude Criswell, Jerry Dodd and David Dodd serving as pallbearers and David Emerline, Doug Gaby, Tony Clawson, and Tommy Gaston serving honorary pallbearers.  Visitation will take place one hour prior to the service at Murray-Orwosky Funeral Chapel.  Mr. Emerline, passed away Tuesday, August 22, 2017, at his residence.
Johnnie Pickard Emerline was born on September 3, 1938 in Linden, Tennessee, the son of Robert Ray and Sarah Addie Lou Stephens Emerline.  He married Virginia John Diede on August 17, 1996 in Pheonix, AZ.  J.P. was a painter and musician, A member of New Covenant Fellowship Chuch, Emory and Nursing Home Ministries.
He is survived by his wife, Virginia; daughters, Cindy Gaby and husband Douglas, Susan Weber, Joan Hyatt and Paula Sue Harvey; sons, James Diede, Milton Diede and Johnny Williams; numerous grandchildren and great grandchildren; brothers, Eddie Duncan, Billy Emerline and David Emerline; sisters, Janie Clawson and Anna Mae Sloan.
J.P. was preceded in death by his parents; daughters, Linda Thompson and Essie Hodges; grandson, Brandon Thompson; brother, Sam Emerline; sisters, Elizabeth Emerline, Ruth Criswell and Janette Padilla.
Memorials can be made to New Covenant Fellowship Church, 800 FM 3299, Emory, TX 75440
Arrangements are under the direction of Murray-Orwosky Funeral Home.