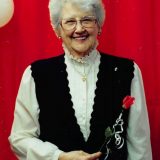 Edith Valerie Moore went to be with her heavenly father on August 21, 2017. Valerie passed away at Trinity Mother Frances Hospital in Tyler, TX. She was 94 years old. She had been a resident of Rock Creek Health and Rehab in Sulphur Springs, TX. Valerie was born August 13, 1923 in Mt. Vernon, TX to Joe and Vida Streacher Blount. She married Bascom Garner September 17, 1940 and Paul Moore November 19, 1960. They all preceded her in death, as well as sisters, Hilga Chester and Hazel Littrell. Valerie was employed by Sears-Roebuck in Dallas for 32 years. She loved her church and was a lifelong member of Assembly of God in Sulphur Bluff. She loved her family, to crochet, quilt, sew, travel, puzzles, playing chicken foot dominoes with her widow's club friends, making sour dough bread, and doing for others.
She is survived by one son, Earl Don Garner and wife Madolynn of Sulphur Bluff, TX, one grandson, Bill Sharber and wife Lisa, three step-grandchildren, Crystal Paliani and husband Joseph of Hugo, OK, Robert Lynn and Crystal of Winnsboro, TX, and Rick Lynn and wife Amy of Sulphur Springs, TX. She is also survived by five nieces who she loved like daughters, Cortette Garner of Brashear, TX, Myrna Cook of Sulphur Bluff, TX, Kay Frazier of Mt. Vernon, TX, Frankie Cooper of Mt. Vernon, and Laquita Bartholomew of Richardson, TX. Also many other grandchildren and great-grandchildren.
Funeral services will be held at 2:00 p.m., Monday, August 28, 2017 at the Assembly of God Church in Sulphur Bluff with Bro. Jake Jones officiating. Interment will follow at Sulphur Bluff Cemetery with George Bassham, Jamee Waller, James Kennimer Bassham, Tony Moore, Rusty Barker, and Jimmy Dan Barker serving as pallbearers. Honorary pallbearer will be Alvin Patterson. Visitation will be held from 1:00 to 2:00 p.m., prior to service time. Arrangements are under the direction of West Oaks Funeral Home.