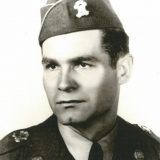 Graveside service for Roy Dale Shipley, age 89 of Sulphur Springs, will be held on Tuesday, August 1, 2017 at 11:30 A.M. at Greenview Cemetery with military honors and Bro. Tommy Johnson officiating.  Brian Ridling, Chad Suttle, Kenny Gibson, William Gibson, Ernie Weaver and JW Regan will serve as pallbearers.  Visitation will be held from 10 to 11 A.M. on Tuesday, August 1, 2017 at Murray-Orwosky Funeral Home.  Mr. Shipley passed away on Saturday, July 29, 2017, at Carriage House Manor, Sulphur Springs.
Roy Dale was born on January 5, 1928, in Miller Grove, Texas, the son of Goffery  and Mary Ann (Schrimsher) Shipley.  Roy Dale was a past member of the Dallas Police Department serving during the time of the Kennedy assassination.  He served his country in the U. S. Army and was a decorated veteran of the Korean War.  He was a respected, active member of the VFW for many years and served as the Post Commander of post #6796 in Dallas, Texas. Roy was a retired Airplane inspector and of the Baptist Faith.   He was beloved and will be greatly missed by his family and many friends.
He is survived by sisters, Mabel Wiler of Sulphur Springs, Elouise White and husband John of Alto, Texas; 10 nieces and nephews.
He was preceded in death his father, Goffery Shipley, his mother, Mary Ann Schrimsher Shipley; sisters, Audrey Weaver, and Louise Grayson; and brother Troy Shipley.
Arrangements are under the direction of Murray-Orwosky Funeral Home.