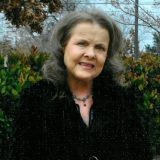 Funeral service for Kathy Crowson, age 61, of Sulphur Springs, will be held at 2:00 P.M. on Wednesday, July 26, 2017 at First United Methodist Church, Sulphur Springs, with Rev. Pete Adrian officiating and Dean Libby and Pastor Jim Moore assisting. Interment will follow at Tira Cemetery with Kenny Crowson, Rodney Crowson, Junior Crowson, Ronnie Crowson, Blake Crowson and Kade Crowson serving as pallbearers and Selena Boyd, Marvin Jones, and Members of Messengers Class of FUMC serving as honorary pallbearers.   Visitation will be held from 6 to 8 P.M. on Tuesday, July 25, 2017 at Murray-Orwosky Funeral Home.  Miss. Crowson passed away Monday July 24, 2017 at Wesley House Assisted Living in Sulphur Springs.
Kathy Ann Crowson was born on July 25, 1955 in Lubbock, Texas, to Billy and Nell Lee Crowson.  Kathy attended Lakes Regional MHMR and was a member of First United Methodist Church, Sulphur Springs.
She is survived by her parents, Billy and Nell Crowson; brothers, Bill and wife, Carol Crowson of Mt. Vernon and Larry and wife, Carrie of Sulphur Springs; nieces and nephews, Blake, Brooke, Kaci and Kade Crowson.
Arrangements are under the direction of Murray-Orwosky Funeral Home.