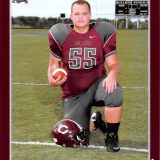 Funeral services for Brayden Lynn Withrow, 16, of Sulphur Springs, will be held at 11:00 a.m., Monday, July 31, 2017 at the Cooper High School Gymnasium with Bro. Lonnie Sanders and Coach Green officiating. Interment will follow at North Hopkins Cemetery with Coach Justin Collard, Taylor Knickerbocker, Tyler Knickerbocker, Lawyer Wright, Andre Smith, Brayden Watkins, Trenton Blundell, and Mitchell Green serving as pallbearers. Honorary pallbearers will be Ale Rosales, Johnny Morgan, Ryan Reed, Matthew Sanders, Coach Kris Crews, Coach Larry Stowers, Coach Brandon Bonds, Coach Ronnie Green, Coach David Moss, Coach Ty Huie, Coach Bryce Jester, Coach Josh Shipman, and Coach Drew Conley. Visitation will be held from 6:00 p.m. to 8:00 p.m., Sunday, July 30, 2017 at West Oaks Funeral Home. Brayden passed away on Tuesday, July 25, 2017.
He was born on December 21, 2000 in Sulphur Springs, TX, the son of Thomas Lincoln Withrow and Brandy Cox Withrow. He was a student at Cooper High School where he loved to play football and also did powerlifting.
He is survived by his father, Thomas Withrow and wife Amy, mother, Brandy Withrow and husband Luke Wright, sister, Carli Michelle Withrow, step-sister, Kimberly Chapman, step-brother, Tommy Allen, grandparents, Rickie and Garlene Cox, Terri Sweet, Tim and Sandy Wright, James and Debra Chapman, Gary and Darlene Hammons, great-grandparents, Huey and Louise Smith, Zelma Butts, and numerous family and friends.
He was preceded in death by grandparents, Teresa Hammons, Jack Withrow, and great-grandparents, Leland and Jackie Wesson.
Arrangements under the direction of West Oaks Funeral Home.