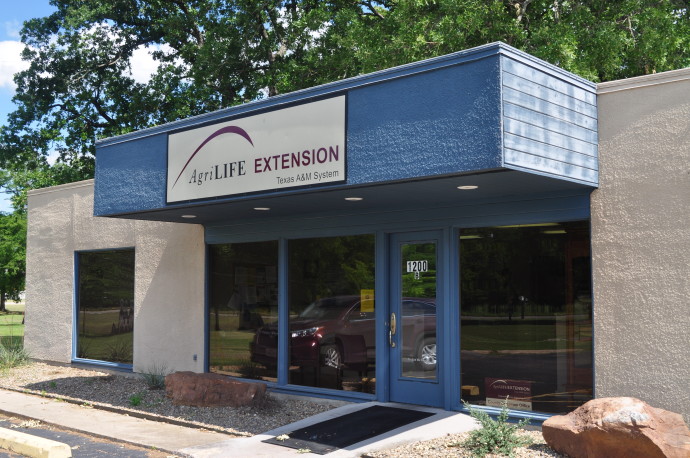 Texas A&M AgriLife Extension Offers Something for Everyone
Did you know that every state in the United States has an Extension Service?  Did you know that every county in Texas has Extension Agents who work with them and that some agents in smaller counties work more than one county?  Were you aware that some of the larger counties have multiple agents to cover the large territory?  How much do you really know about your Hopkins County Extension Office?  Did you know that there are two local Extension Agents?
The Extension agent for Family & Consumer Sciences (yours truly) focuses on nutrition; food safety; health & wellness; diabetes education; marriage education; parenting; budgeting; healthy homes; childcare conference (with PJC); children's literacy; health fairs; Kids' Camp: Fun, Food, Fitness for 1st thru 4th graders; Skills Camp for 5th & 6th graders; Master Wellness Volunteer program; and 4-H clothing, foods , and educational presentations projects.  An occasional multi-day sewing workshop, team building and inspirational programs are also implemented.  And I forgot to mention that we have free publications now available on food preservation.  If you have a garden and produce, you will benefit from this information.  Among the topics are canning vegetables and fruits, salsas, jellies, and jams, freezing fruits & vegetables, dehydrating foods, and basic home canning information, along with many more topics. I am also a member of the Sulphur Springs and Como-Pickton ISD School Health Advisory Councils, Community Chest Board, Hopkins Dairy Festival Board and the Fall Festival Board, in charge of the Creative Arts Contest and the Arts & Crafts Show.
The Extension agent for Ag and Natural Resources focuses on livestock, forage, pesticide applicator's license and CEU's workshops, septic system management, soils, beef cattle, horticulture, pasture and pond management, Master Gardeners Program, and 4-H livestock, shooting sports, and horticulture projects.  We have publications on planting gardens, tree care, fly control, Zika virus, and many more topics.  Mario also works with the Northeast Texas Livestock Association and Northeast Texas Beef Improvement Organization on various livestock shows and events.
Together, we work with the Hopkins County 4-H program on county-wide events, such as camps; county, district, state 4-H contests; project tour days; annual 4-H Christmas party; 4-H Gazette newsletter; 4-H community service projects; National 4-H Week events; 4-H Project Show; and County 4-H Council meetings.  We also coordinate the Extension Leadership Advisory Board, Youth Advisory Committee, and our respective program area committees.
As part of the Texas A&M University System, we bring the university to our community through our programs, events, conferences, and workshops.   We often partner with agents from other counties to provide a large-scale program.  As a matter of fact, the multi-county Family & Consumer Sciences (FCS) team from Hopkins, Rains, Hunt, and Wood Counties recently held "Dinner Tonight – Cooking With Chef Cruz" at Hidden Lakes Hunting Lodge.  The chef demonstrated cooking with wild game.  His recipes included: Duck Breast with Baby Kale & Sweet Potato Puree, Grilled Bobwhite Quail with Wild Blackberry Sauce, and Red Stag Venison with Asparagus.  This was an educational and entertaining event, and from the feedback we received, it was also enjoyable for the attendees.  Watch for more coverage on this event in the coming days.
So, did you learn something about Texas A&M AgriLife Extension?  I hope so!
Summer Sewing Workshop
By popular demand, I will be implementing a sewing workshop in August, just prior to the start of school.  For those who wish to learn how to make a t-shirt quilt, I will have a list of materials to bring, as well as some actual quilts I have made.  If that project is a little too advanced, I will also teach basic sewing skills for beginners (or refresher for those who haven't sewn in a few years!)  I'll have instructions for simple make-and-take projects, and will provide fabrics for most of these.
Dates of the workshop are Tuesday, Wednesday, and Thursday, August 15, 16, and 17, at the Extension Office, 1200-B W. Houston Street in Sulphur Springs.  There will be a one-time fee of $15, payable at the first session.  The first day will be from 9:30 a.m. to 2:30 p.m., but the times for the other days will be determined by the group.  (I have been known to start at 8:30 a.m. and end at 5:00 p.m. by request!)  If you are interested, please call our office at 903-885-3443 and leave your name and phone number.  We will contact you later with a supply list.
Closing Thought
Remember the three R's: Respect for self; Respect for others; and Responsibility for all your actions – unknown