This year's district track meet for the Wildcats and Lady Cats is a two-day event at Pine Tree in Longview with prelims on Monday and finals on Wednesday. Athletes will be trying to finish in the top four in their events to qualify for the area track meet on April 20 at Lovejoy.
Lady Cats Track Coach Triston Abron said he's excited to think about what could happen. His team has had several strong showings at previous meets this season. Coach Abron said the goal for his team is to win the district meet. He said if the team keeps progressing as they have been doing, they will give themselves a chance to win. Coach Abron said he has seen some other teams in district and he said winning won't be easy. He said if his team takes care of their business, they will have a shot. Coach Abron said each Lady Cat has to have a goal of finishing in the top four in their event to qualify for the area meet.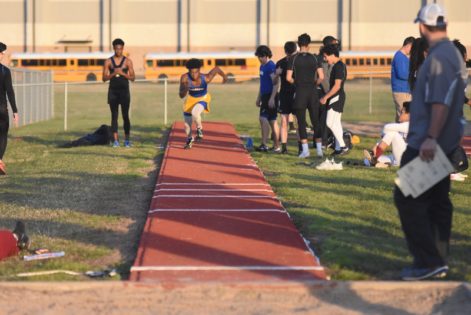 Wildcats Track Coach Matt Young has more modest goals especially with the injury bug possibly sidelining several key athletes. He said he expected his team to score 80 points if the injured athletes compete. Without them, Coach Young said over 50 points would be good. He said he is hoping one or two throwers, one or two distance runners and some hurdlers will qualify for the area meet. Coach Young said Ryan Humphries also has a chance in the 100-meter dash. He added it could be better but other athletes have to perform at Pine Tree. Coach Young said last year's district winner Pine Tree is thought to be the frontrunner. He said they specialize in middle distance runners. He said Texas High features sprinters, Hallsville shines in field events and hurdlers, Marshall has speed and good relay teams and Mt. Pleasant features good throwers. Greenville also has some good athletes.