Magic springs to life on stage this week at Paris Junior College with the opening Thursday evening of "The Lion, The Witch and The Wardrobe" at 7:30 p.m. in the Ray E. Karrer Theater. Evening showings continue Friday and Saturday and a 2:30 p.m. matinee showing will be held on Sunday.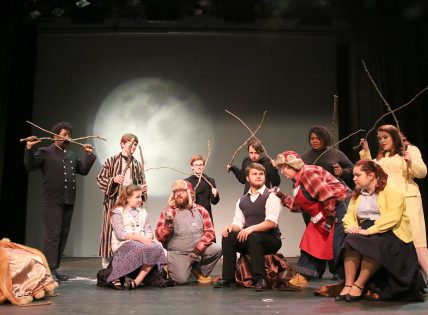 "The production has been a joy to work on," said director and PJC drama instructor Robyn R. Huizinga. "It's not often that a theatre artist gets an opportunity to bring the world of a favorite book from her childhood to life.
Audiences can expect a storybook feel, an unusual set puppeteered by the cast, some humor, and some exciting action sequences. We hope to see kids and kids at heart coming out to travel through the wardrobe with us!"
The play brings to life the beloved story of four children who travel through a wardrobe to the land of Narnia and learn of their destiny to free that land, guided by the mystical lion, Aslan.
Based on the fantasy novel by British writer and Christian theologian C.S. Lewis, "The Lion, The Witch and The Wardrobe" features not only PJC students, but many children and adult members of the community.
Tickets are $15 for adults, $10 for senior citizens, and free to those with a current PJC student ID. For more information or to make reservations, contact [email protected] or 903-782-0488.