Wildfires burned across the Texas Panhandle, Oklahoma, Kansas and Colorado in early March, destroying homes, barns, fences, livestock, and tragically, several lives were lost. The fires charred more than 520,000 acres of land in the Panhandle and killed thousands of head of livestock.
When word of the extent of the losses reached Sulphur Springs, the Hopkins/Rains County Farm Bureau and the Northeast Texas Farmers Co-op along with the support of the Northeast Texas Beef Improvement Organization (NETBIO) and others launched a relief fund drive.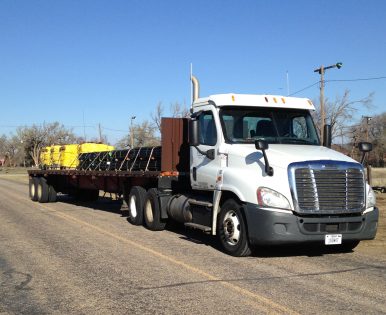 The goal was to raise enough funds to send a load of fencing materials to producers so they can begin rebuilding their pastures and replacing cattle. They reached their goal and more by raising $35,000 by of March 30.
Don Smith, President of the Hopkins/Rains County Farm Bureau, said that through the efforts of a lot of people in Northeast Texas farmers and ranches in the Panhandle can begin to rebuild.
With those funds deposited in Texas Heritage National Bank, Smith said that with the help of Brad Johnson at the NET Farmers Co-op, a truck load of fencing materials including 189 rolls of wire, 3,400 posts, stays and other accessories, was put together and shipped to the Panhandle over the weekend.
"A county extension agent and others will meet the truck there and get the materials distributed to producers," Smith said. "That will be enough materials to build 11 miles of fence, which will be a big help to some folks."
Smith said that thanks to the help of members of the NETBIO organization, the Sulphur Springs Livestock Commission, Hopkins County Co-op, Farm Bureau members and others, the wildfire relief fund was a success.
Help also came from around the area, according to Smith. The Hunt County Farm Bureau contributed to the fund, along with people from Mount Pleasant and Rockwall. The national Livestock Marketing Association (LMA) heard about the local fund drive and sent a contribution.
"We are so grateful for what the cattle producers in the area and so many others have done to help those cattle producers who lost so much," Smith said.