Offer of 10 more upgrades:
One of the best ways to enhance your travel experience is through the various awards and loyalty programs.  There are countless airline, hotel, and credit card programs that offer upgrades, enhancements and points or miles.  Keeping up with all of the different loyalty programs can sometimes be cumbersome. Recently I discovered AwardWallet and have tried it out for a few months.   AwardWallet is basically a tracking program that keeps all of your loyalty programs in one place.    It allows the user to see on one screen all programs, with point values, expiration dates, status levels, etc.  The program will also alert you of specials and bonuses as well as expiring promotions with each program that you are registered.
You can sign up for a new account by clicking on this link:  AwardWallet Sign Up
It is very important that you enter the coupon code during your sign up.  You can upgrade your account by entering the following coupon code:  free-gdqgwo   The first 10 users that apply will get a free upgrade to AwardWallet Plus for six months.  Check back here for updated coupon codes.
Below is how all of your separate accounts are shown in AwardWallet on one page: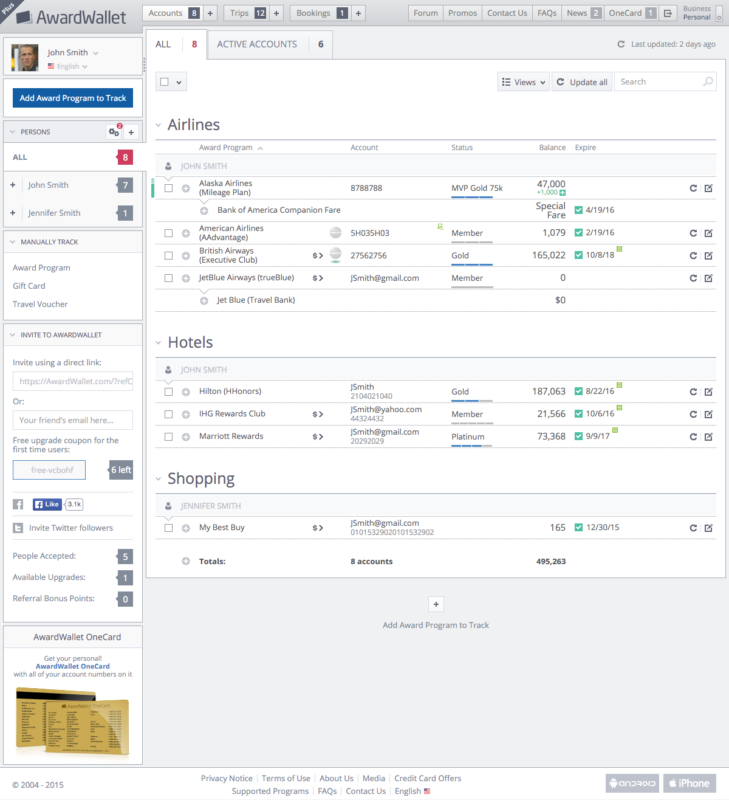 Award Wallet also keeps up with your upcoming trips as shown in the sample below: