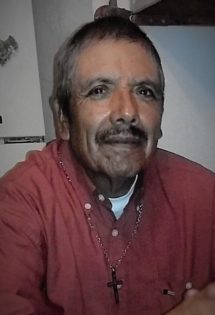 Funeral Mass of Christian Burial for Victoriano "Don Victor" Lopez, 60, of Brashear, will be held at 2:00 p.m., with Musical Tribute and Rosary to start at 1:00 p.m., Saturday, March 11, 2017 at St. James Catholic Church with Father Juan Sardinas. Interment will follow at Sulphur Springs City Cemetery with Jorge Lopez, Marcelino Diaz, Cruz Lopez, Luis Lopez, Pablo Lopez, Evodio Martinez, Jesus Soto, and Concepcion Jr, Garcia serving as pallbearers. Visitation will be held from 6:00 to 9:00 p.m., with Rosary starting at 7:00, Friday, March 10, 2017 at West Oaks Funeral Home. Victor passed away Tuesday, March 7, 2017 at his residence.
He was born on December 12, 1956 in Rancho Seco, San Felipe, GTO, Mexico, the son of Odilon Lopez Ramirez and Maria del Carmen Arviso. He married Felipa Lopez on February 19, 1978 in San Juan de Llanos, GTO, Mexico. She survives. He worked as a dairyman and construction laborer for many years. He was an avid musician, playing several different instruments and shared his love of music with other Churches that would call on him to play. He was a D.J. with Payaso Chocolate. He was a member of St. James Catholic Church since 1979 and a choir member.
In addition to his wife, he is also survived by his parents, son, Jorge Lopez of Brashear, daughters, Particia Soto y Jesus, Yolanda Garcia y Concepcion Jr., and Maria Lopez all of Brashear, brothers, Salome Lopez of Dalton, GA, Cruz Lopez of Sulphur Springs, Pablo Lopez of Princeton, TX, Tomas Lopez of Nashville, TN, Luis Lopez of Arlington, TX, Gabriel Lopez of Rancho Seco, GTO, Mexico, sisters, Maria de Jesus Ibarra of Dalton, GA, Rosa Hurtado of Ft. Worth, Maria Guadalupe Ramirez of Ft. Worth, Juana Lopez of Dalton, Ga, and grandchildren, Daniel Soto, Jovanni Diego Garcia, and Gabriel Alexander Garcia, all of Brashear.
The family of Victor Lopez would like to sincerely thank everyone in our community for the words of comfort, prayers, food, and monetary donations in our time of need. He truly loved helping others and your generosity toward us is greatly appreciated. The Lopez Family.
Arrangements are under the direction of West Oaks Funeral Home.