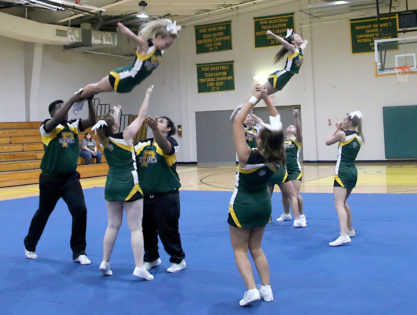 A morning cheer clinic and afternoon tryouts will be held this Saturday, April 1, at the Hunt Center by Paris Junior College. Those wishing to tryout for next year's PJC cheer squad must attend the clinic, which runs from 9 a.m. to noon. Tryouts will begin at 1 p.m.
An application and medical release form must be completed and returned by Thursday, March 30 by 5 p.m. to the PJC Student Life Office. Other requirements include current enrollment in or acceptance to PJC. Incoming freshman and transfer students must provide a copy of their acceptance letter. All applicants must have a minimum 2.0 cumulative GPA. Participants must be 18 or have a parent or guardian signature.
At the clinic, participants will be taught chants, a cheer, and a dance, and be required to perform what they learned at the tryouts. They should wear black shorts and a white t-shirt to the tryouts.
Those succeeding at the tryouts must be available to practice and attend camp over the summer. If they cannot participate over the summer, the next highest-ranking participant will be chosen.
All participants must complete a tryout application. To get the application packet, download at www.parisjc.edu/cheer, or contact PJC Student Life Coordinator/Cheer Coach Leanna Swart  at [email protected] or 903-782-0403, or PJC Director of Student Life Kenneth Webb at [email protected] or 903-782-0433.