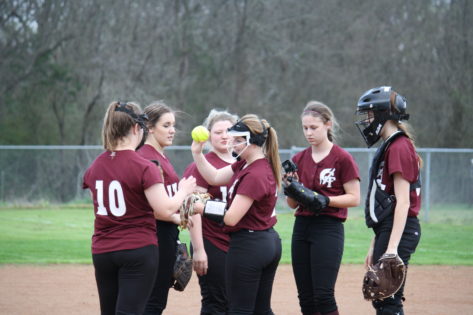 The Cumby Lady Trojans got their second district win Friday, March 10, night in Wolfe City to go 2-1 in district play.  The Lady Trojans defeated the Lady Wolves 11-8.
Carly Talley was the winning pitcher with seven strikeouts and six walks.  Defensively, the Lady Trojans did much better with a tremendous right field catch by Martina Gonzalez, and Bailey Busby catching a Lady Wolf trying to steal second base.  First baseman Alyssa Morgan had 100% on base percentage going 3 for 4 on the night reaching base on her first at-bat by taking advantage of a third strike dropped ball.  Alyssa had a single and two triples.  Her second triple came in the 5th inning with the bases loaded and the Lady Trojans down by one 7 to 8.  Paige Seely was 2 for 4 on the night with a single and in the 5th inning continuing the rally with an RBI single.  Busby went 1 for 4 on the night with a single, and Talley two RBI with a single and a triple.  Laura Rector reached base twice on the night both times being hit by a pitch, while Harley McLarry went 1 for 3 with a 2 RBI single in the first inning.  Sydney Spillers went 3 for 3 with an RBI, 3 singles, and reaching base after getting hit by a pitch.  Alysse Bullock went 1 for 3 with a single, and Gonzalez reached base on a walk.
The Lady Trojans will face Honey Grove on Monday at home with a start time of 2:00 and travel to Celeste on Tuesday to play at 11:00am.