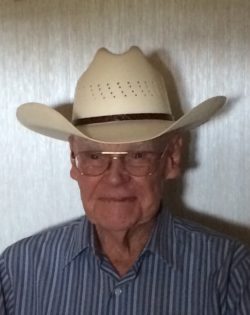 Funeral Service for Floyd L Payton, age 86, of Tira, will be held at 2:00 P.M. on Wednesday, March 8, 2017 at Tira Methodist Church with Andy Wright officiating. Interment will follow at Tira Cemetery with Clen Honzell, B.C. Honzell, Floyd Lawson, Brad Dodd, J.R. Durst and David Honzell serving as pallbearers.  Visitation will be held one hour prior to the service at Tira Methodist Church.
Floyd passed away March 5, 2017 at his residence.  Floyd was born on March 25, 1930 to Earl L. and Georgia (Cooper) Payton.  He graduated from Cooper High School in 1948.  He married Martha J. Honzell in Longview, TX on December 1, 1950, while working for Longview Linen Service.  He served two years in the United States Army at Ft. Hood and in Germany.  He retired from the Fort Worth Fire Department after 30 years of service.  He and Martha retired to the Tira home place in 1993.  They had some fine dogs, and raised some cute cows with funny names. He and Martha were very active in the community, serving the Tira Cemetery, the church and Floyd served as Mayor.
Floyd is survived by his wife, Martha Payton; son, Brad and wife Virginia Payton; daughter, Regina Payton; nephews, Ken and Jerri Sorensen and Randy and Brenda Sorensen of California; extended family, Von Honzell, Jeanette and Bob Bennett, James and Dixie Honzell, Ann Sullivan, Ruth and Ray Prim, Marge and Tom DeMarino, Nelda Jo and Bill Gordon, Mary Helen and Joe Cooke, Barbara and Leon Flesner, BC Honzell, Clen and Cindy Honzell, Lon Honzell; numerous nephews, nieces and cousins.
Floyd was preceded in death by his parents, Earl and Georgia Payton; sisters Mary Sorenson and Jean Roah; grandson, Eric Lee Payton.
The family is thankful for the care and compassion provided by Carriage House Rehabilitation, 1st Choice Home Health Care and Legacy Hospice.
Memorials can be made to Tira Cemetery, 776 FM RD 1536, Sulphur Springs, TX 75482 or Tira Methodist Church, 101 FM RD 1536, Sulphur Springs, TX 75482.
Arrangements are under the direction of Murray-Orwosky Funeral Home.