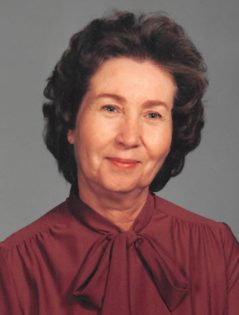 Funeral service for Betty Fulmer Bergin, 91, of Sulphur Springs, will be held at 2:00 p.m., Monday, March 13, 2017 at West Oaks Funeral Home Chapel with Rev. Ron Byrd officiating. Interment will follow at Sulphur Springs City Cemetery with Bill Hughes, Jeremy Blount, Phillip Sartin, Joe Dan Kennedy, G.W. Gibbins, and Carlisle Clements serving as pallbearers. Visitation will be held from 6:00 to 8:00 p.m., Sunday, March 12, 2017 at West Oaks Funeral Home Chapel. Mrs. Bergin passed away on Thursday, March 9, 2017 in Tyler, TX.
She was born into a prominent pioneer family on February 26, 1926, in Forney, TX, the daughter of W.C. and Juanita Bridges Fulmer. Her great-grandfather, A.J. Bridges, was the author of the Sulphur Springs Charter and served as the first mayor of Sulphur Springs. Mrs. Bergin was a graduate of Clarksville High School and of Texas Women's University in Denton. She did post graduate work at The University of Colorado. She was a former high school teacher in Edinburg and Sulphur Springs, TX. She engaged in ranching in Sulphur Springs and was the owner of land that had been owned and operated by her family for over 150 years. She married Lawrence Bergin in July 1951. He preceded her in death in 1961. She was a member of the First Christian Church where she served as secretary of Christian Women's Fellowship as well as a longtime teacher of young people. She was a past president of Standard Club and Lena Day Garden Club and a active member for years. She was an avid gardener all her life. She was a member of Daughters of the American Revolution and Hopkins County Historical Society.
She is survived by her daughter, Carolyn Bergin and son, George Lawrence Bergin, both of Sulphur Springs.
In addition to her husband, she was also preceded in death by her father, W.C. Fulmer and mother, Juanita Bridges Fulmer.
Arrangements are under the direction of West Oaks Funeral Home.