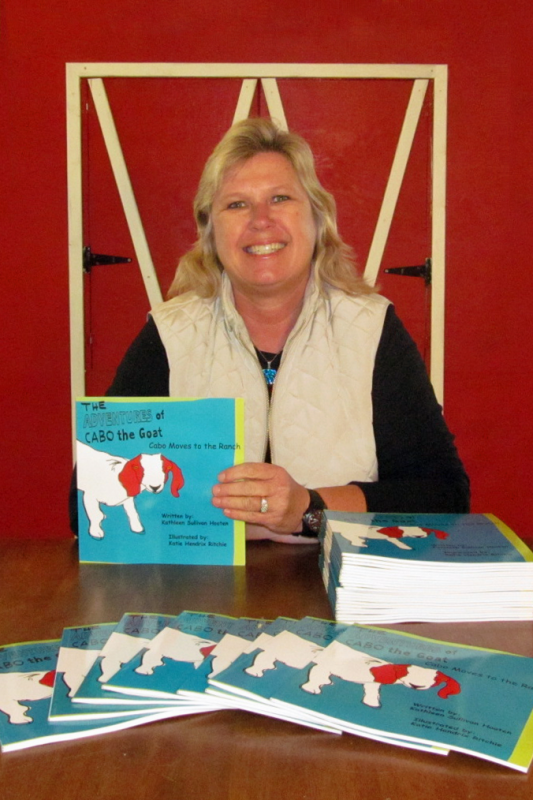 The Northeast Texas Children's Museum is pleased to present first-time author Kathleen Hooten for a presentation of The Adventures of Cabo the Goat. Not only will the presentation include Kathleen's appearance, but it will also include an introduction and appearance of Cabo. We are told that Cabo is very well-mannered and loves the attention of kids. Kathleen and Cabo will appear at the Children's Museum on Saturday, January 28 at 2:00.
Kathleen Sullivan Hooten is a former science teacher with an extensive background in animal science.  Living on her family ranch, Kathleen has always found the humor in farm animal antics and behavior as they interact with one another.  Cabo first arrived on the ranch as  her son's show goat. The family was drawn to the personality of Cabo, and Kathleen was inspired to chronicle his adventures. Although this book highlights Cabo's arrival at the ranch, there are plans for this book to be the first in a series.
"I am so excited that Kathleen and Cabo will be coming to the Children's Museum. Kathleen has been involved here as our Board President in 2015. She also wrote the curriculum for our Weird Science program for fifth graders.  Even her dog Domino has appeared to teach children to care for their pets. We are very excited to meet Cabo."
The Adventures of Cabo the Goat is for grades three to five "read alone level". The high interest of Cabo's adventures will make it a great story for a much wider age group. The book is   illustrated by local artist Katie Ritchie. Books will be available for purchase and signing by the author. Call the Children's Museum at 903-886-6055 for additional information.