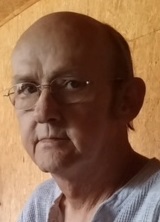 Funeral services for Gerald Jetton, age 61, of Mt. Vernon, will be held at 2:00 P.M., Sunday, January 8, 2017 at Murray-Orwosky Funeral Home. Interment will be held at Mt. Zion Cemetery. Visitation will be held Saturday, January 7, 2017 from 6 to 8 P.M. at Murray-Orwosky Funeral Home.
Mr. Jetton passed away Tuesday, January 3, 2017 at his residence. Gerald was born on February 7, 1955 in Commerce, Texas, to Coy B. and Lena (Weatheread) Jetton.  He married Karen Simmons on July 18, 1974, in Shreveport, Louisiana.
Gerald served in the U.S. Air Force, and was retired from GTE now Verizon.  He was a member of the Mt. Vernon Masonic Lodge, Scottish Rite and Shriners of Dallas.
Mr. Jetton is survived by his wife, Karen; brothers, Oliver Jetton and wife Judy, and Dale Jetton; sister Mickie Hansen; brother-in-law, Douglas Simmons; numerous nieces and nephews.
He was preceded in death by his parents.
Arrangements are under the direction of Murray-Orwosky Funeral Home.