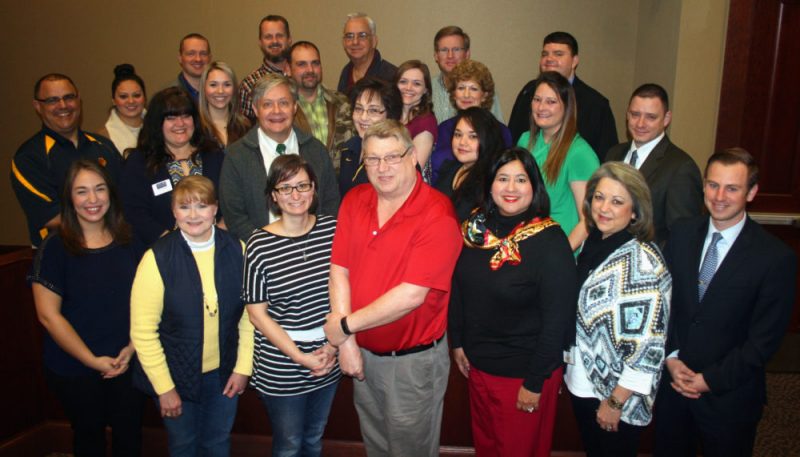 (January 26, 2017, Commerce, Texas) The Commerce Leadership Institute (CLI) Class of 2017 met for the first time at Dixie Turman's State Farm office in Commerce on Wednesday, January 18.  The Commerce Leadership Institute was established in 1988, making this the 29th CLI class.
The CLI Class of 2017 consists of Jim Ayres, Amy Barrow, Erica Contreras, Stephanie Davies, Amanda Escobedo, Darrek Ferrell, William Ford, Devin Girod, W. Scott Lancaster, Katie McKenna, Rachel Mitchell, Jamie Morgan, Kris Myers, Kristen Neeley, Charles Perry, Erik Pietersma, Rickey Porter, Krista Rasco, Ann Reel, Victoria Reeves, Diane Stegall, Jeremy Tanner, and Patricia Tremmel.  Michael Barera and John Weatherford, members of the CLI Class of 2016, are serving as co-leaders for this year's CLI class.
CLI promotes community involvement and civic leadership. The class will meet twice a month for 10 sessions this spring, during which class members will visit local businesses, schools, the university, and various city facilities to get a broader understanding of all of the parts that work together to make up our wonderful city.
In addition to the regular class meetings, the CLI class will attend an all-day outdoor team-building experience in April.  The class will also attend the Commerce Chamber of Commerce annual banquet on February 16th.  As it has for many years, the CLI Class of 2017 will conduct a fundraiser barbecue in conjunction with the Bois d'Arc Bash on Friday, September 22.  In addition to being a substantial team-building exercise for the current CLI class members, proceeds from the barbecue help to assure that the CLI program will continue for future class participants.
"This 29th class of the Commerce Leadership Institute is on their way to improving Commerce," says Commerce mayor and CLI alumnus Wyman Williams.  "It is so rewarding to see such a high level of leadership come together to learn about the various institutions that build our community."