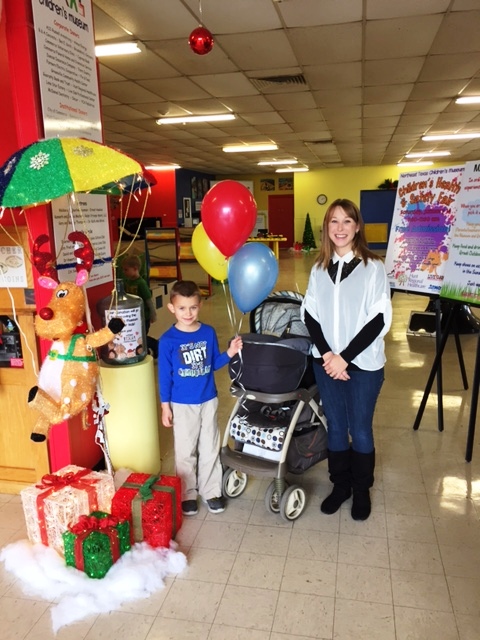 DEBBIE GOODING AND HER SONS RECEIVE BALLOONS AND A YEAR MEMBERSHIP TO THE NORTHEAST TEXAS CHILDREN'S MUSEUM
There was great excitement at the Children's
Museum on Wednesday, December 21, as the Gooding family from Sulphur Springs brought the
yearly number of visitors to 30,000. Debbie had attended Brunch with Santa and returned for a
second visit at just the right time. Balloons and a yearly membership were presented to Debbie
as she entered the Children's Museum. "Are you kidding? This is wonderful! My boys will love
this!" she quickly exclaimed.
"We want to thank all our visitors who have made this year such a success. This is a
tremendous milestone for the Children's Museum", said Sharline Freeman, Executive Director.
"Since the population of Commerce is 8,000, this number reflects the support that the Children's
Museum receives from throughout northeast Texas. "
The Northeast Texas Children's Museum features open play, special events, and school
programs throughout the year. Coming soon in 2017 will be the Children Health and Safety Fair
on January 14; a book signing by author Kathleen Hooten on January 28; the Daddy Daughter
Dance on February 4; and Mother Son Pirate Night on February 25. The Healthy Kids from A to
Z pre-school program will begin the eight-week class on January 11; the fifth grade Weird
Science program begins on February 9.
2 of 3
The Children's Museum opened in 2002. With a full schedule and variety of events, 2017
promises to be another successful year at the Northeast Texas Children's Museum. For more
information, call the Children's Museum at 903-886-6055.