Bishop Nelson Gatlin stopped by the KSST Studios on Friday morning to remind listeners about Saturday's "Rescue the Perishing" Food Drive at Mitchell Chapel Church of God in Christ in Sulphur Springs. The drive will begin at 8am at the church, 402 South Jackson Street. Persons in need can receive a food basket with ID of a driver's license or Sulphur Springs water bill.  Formerly Pastor of only Mitchell Chapel, Gatlin became a Superintendent over 8 area churches, then in 2016 was named Bishop, overseeing 55 churches in N E Texas. He still enjoys visiting and spending time with each congregation individually. He is one of 19 Bishops in Texas and 350 nationwide. Churches of God in Christ have 8 million members in 89 countries of the world.
BISHOP NELSON GATLIN WITH KSST EMPLOYEES DOLLIE KELLY AND ENOLA GAY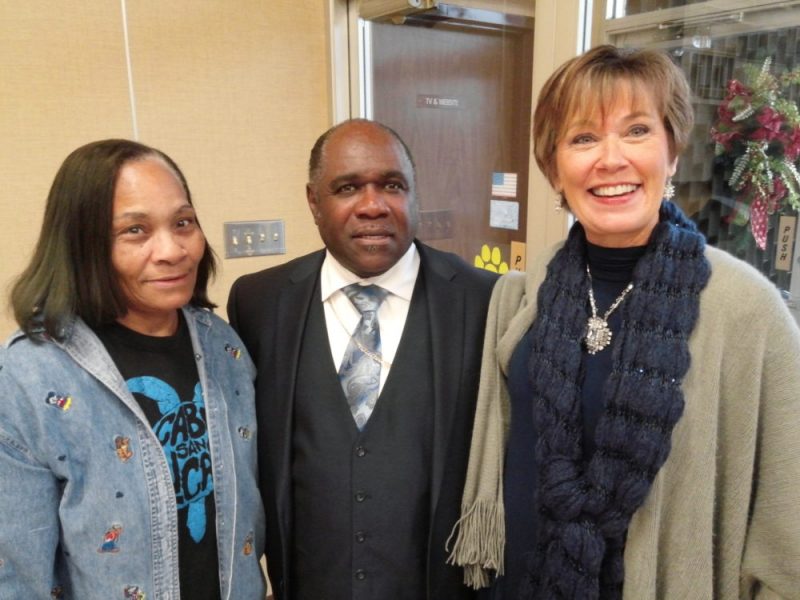 FOOD DRIVE VOLUNTEERS ROBERT BONNER JR, CARNELL ALEX, MARVA ALEXANDER, BISHOP GATLIN, NEHEMIAH AND DETRA SHAMLIN, MOTHER G. SHAMLIN AND NITA  BARRETT.