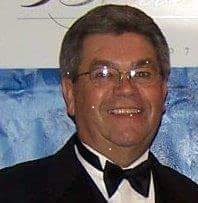 Funeral services for Randy Allison, age 72, of Sulphur Springs, TX will be held at 2:00 p.m. Friday, December 23, 2016 at New Beginnings Fellowship Baptist Church Sulphur Springs, TX with Rev. Larry Jordan officiating. Military graveside services will follow at Shook's Chapel Cemetery with Charles Brannon, Charlie Sickles, Josh Boatman, Mike Sellers, Junior Hinton, and Matt Holt serving as pallbearers and Jay Murray as honorary pallbearer. Visitation will be 1 hour prior to service.
Mr. Allison passed away Monday, December 19, 2016 at Christus Mother Frances Hospital in Sulphur Springs. He was born on March 24, 1944 in Pocahontas, AR to Shirley Swears Allison and Ella Mae Oglesby. He married Jan Hambrick Allison in Pocahontas, AR on January 6, 1973.  Mr. Allison was a Nursing Home Administrator and was a member of the New Beginnings Fellowship Baptist Church Sulphur Springs, TX.  He was a Praise and Worship Leader and a member of Sigma Pi National Fraternity and also in the Army serving in the Vietnam War.
Mr. Allison is survived by his wife; sons, Shane Allison and Wife Carrie, Luke Allison; daughter's, Ashley Holt and Husband Matt, Sarah Beth Frazier; grandchildren, Haylee Hooks, Ty Holt, Courtney Frazier, Taylor Frazier, Allison Frazier, and Caitlyn Rowland; brother Doug Allison; sister Judy Evins.
He is preceded in death by his parents.
Arrangements are under the direction of Murray-Orwosky Funeral Home
The online register can be signed at: www.murrayorwosky.com