by Paul Bailey
As the Northeast Texas Beef Improvement Organization (NETBIO) nears the completion of its 18th year of operation, organizers and directors have reviewed another successful year and are preparing for its anniversary Pre-conditioned Calf and Yearling Sale on Wednesday, Nov. 16.
This anniversary sale will be held at the Sulphur Springs Livestock Commission where the NETBIO sales have all been held since the very first one in November of 1998. Auctioneer Joe Don Pogue, one of the original organizers, will begin selling more than 8,000 head of cattle at 1 p.m.
In addition to seeing the sale in person at the Market Center, the sale is also broadcast on the Internet and bids will be accepted at LMAAuctions.com. Prospective buyers should register in advance of the sale.
Prior to the sale a barbecue lunch with all the trimmings will be served to all the producers (sellers) and buyers attending the sale. It will be sponsored in part by Alliance Bank of Sulphur Springs. This has been a once-a-year tradition since that first sale.
For those not familiar with NETBIO, it is an organization comprised of independent cattle producers and agri-business representatives working together to enhance the beef industry and the entire Northeast Texas rural and urban economy.
But according to Dwyatt Bell and David Fowler, two of the original organizers, NETBIO has become much more than they could have imagined.
"NETBIO is recognized across the State of Texas and the Southern United States as the leader in its reputable offering of preconditioned calves," said Bell, who has continually served as the Chief Operating Officer of the organization since its inception. "Not only has it enhanced the beef industry both in quality and quantity in Northeast Texas, but it has reached out beyond the borders of Texas and into dozens of Texas counties."
NETBIO today has more than 700 members who participate in the preconditioning program and marketing opportunities. Those members reside in 5 states outside of Texas, and membership covers over 43 Texas counties.
Fowler said that the idea for NETBIO, born in the mid-1990s, was ahead of its time.
"There were no big sales offering preconditioned calves and yearlings. The feedlots had to do the conditioning themselves," he said. "With the advent of NETBIO, there was born an opportunity for producers to wean and pre-condition calves in their own pastures and sell them in truckload lots to cattle feeders."
A non-profit organization, NETBIO has lived up to its name by improving the genetic make-up and quality of commercial cattle herds in Northeast Texas and throughout the regions where members participate.
With seminars and special programs, NETBIO keeps members up to date on herd improvement and management practices. Fowler and Bell agree that this attention to management, along with better quality cattle, rewards producers financially at sale time for adding value to their product.
They point out that top quality preconditioned cattle has resulted in an outstanding marketing year. In six NETBIO sales from November 2015 through September 2016, producers sold 35,846 head of pre-conditioned calves for an average of $913.57.
NETBIO also gives back to the community in many ways besides supporting beef cattle producers. Each year the organization presents Jim Jacobs Memorial Scholarships to four college agriculture students, as well as a scholarship in the name of founder the Dr. J.D. Norris.
The organization recently sponsored the Cattlemen's Classic in Sulphur Springs, serving up approximately 750 steak dinners. Twenty-eight teams completed in the cook-off. Members also participated in this year's Ag-In-The-Classroom program.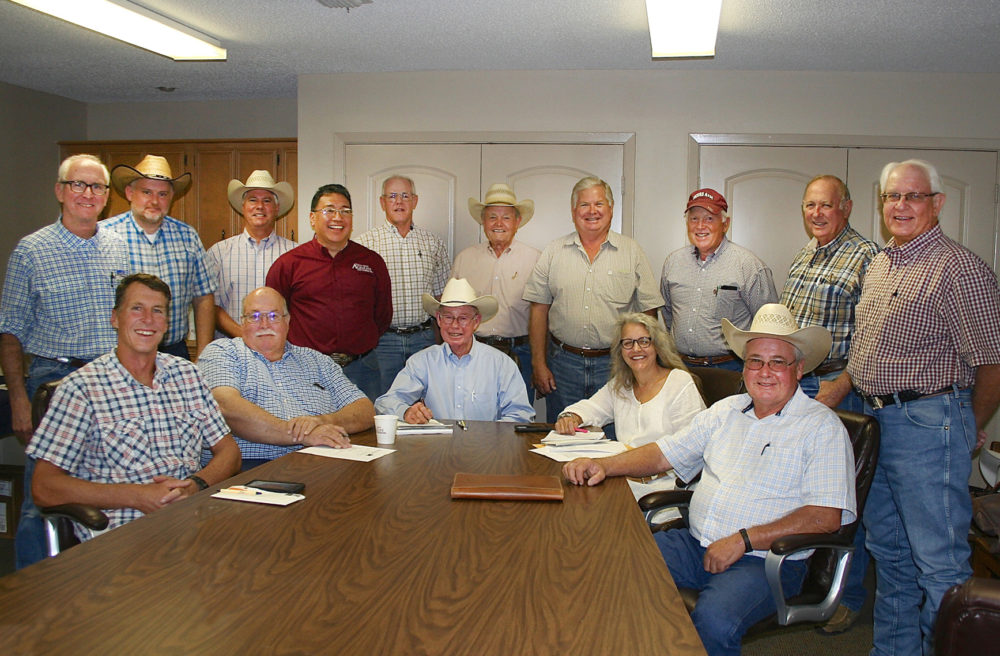 Helping Bell keep all this activity going for 18 years is the producer board members and the agribusiness board members. On the producer board are Brian Cummins of Canton, president; Henry Potts of Emory, Doug Blackard of Cookville, Steve Chaney of Kaufman, David Zahn of Sulphur Springs, Rodney Lennon of Point, Ben Lamborn of Sulphur Bluff, Mike Thompson of Mt. Pleasant, Lynn Melton of Grand Saline, Ben Shumate of Cookville, and new members Grant Sadler of Alba and Greg Spigener of Mt. Pleasant.
Agribusiness board members are Bell, CEO; Mario Villarino, Joe Don Pogue, David Fowler, Marchall "Bo" Dunlap, David Black, DVM; Kevin Gray, DVM and Chris McClure. The Academic board member is Douglas Eborn, PhD of A&M-Commerce.
The books are already open for consignment to the January 18, 2017 sale and producers who missed the November auction are invited to sign up for that sale now. Call the Sulphur Springs Livestock Auction at 903-885-2455 for information and to reserve your ear tags for a spot in the January auction.