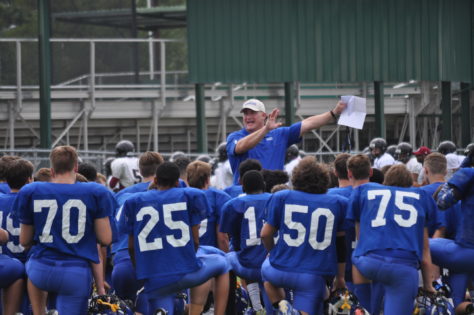 Here are some of the things Wildcats Football Coach Greg Owens talked about at his media gathering Wednesday morning held just hours before Coach Owens and his team left campus on their way to Orlando, Florida for their week two game against Seminole Ridge Friday at 7 p.m. (our time). The Wildcats JV team will be playing Fort Myers Dunbar JV at ESPN's Wide World of Sports Stadium at 10 a.m. Friday. (our time) He said practice had been good this week with his team still giddy from last week's Sherman win. Concerning his team being distracted this week by the Disney World trip, Coach Owens said he thought once his team settled in at Orlando, they would be fine and ready to play Friday night.
He also said he saw benefits to preparing for an offense this week that almost no one else uses, the wing T. Coach Owens said they actually use elements of the wing T but it's not like the total wing T package of days gone by. Coach Owens said this week's defensive preparation would be good for some of the things the team might see later. He said Seminole Ridge had some explosive guys on offense along with a solid quarterback. The Hawks defense features a Sherman-like look but with smaller linemen and bigger linebackers. He said the linebackers were the strength of the defense.
Concerning possibly playing in a driving rainstorm, Coach Owens said the elements would be the same for both teams. He said the field at ESPN's Wide World of Sports Stadium was natural grass and had good drainage. Friday morning forecast calls for a 70% chance of rain today but rain should end late afternoon.