by Jan Vaughn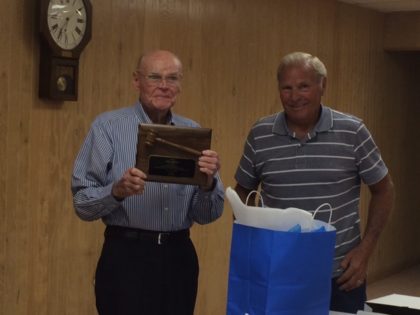 A good group gathered at the Tira Community Center on Tuesday evening, September 6th, to honor Floyd Payton, former Mayor of Tira, who resigned just prior to the last quarterly Tira City Council meeting, due to health issues. Current Mayor Powell Vickery presented a gavel plaque to Mr. Payton from the Council, in recognition of his dedicated service. Floyd and his wife, Martha, have given much to the community through their volunteer activities. Andy and Mary Lou Wright catered the reception and served delicious cake, cookies, nuts, and punch to the guests.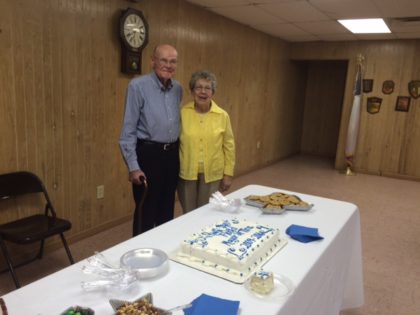 Floyd posed for a picture with council members – Tami Joslin, Joyce Dodd, Jan Vaughn (City Secretary), Powell Vickery (Mayor), and Sherry Smiddy. JR Durst recently announced that he would not be running for another term on the City Council. Yvonne Weir has filed an application for a place on the council, as well as incumbents, Tami Joslin and Sherry Smiddy. The three are unopposed, so no election will be necessary.
Yvonne Weir and Brenda Allen have returned from their trip to Glacier Park, Coeur d'Alene Idaho, the Little Bighorn Battlefield, and South Dakota (Yvonne's home place). They report that the weather was cool and the scenery was beautiful. Yvonne got to visit with several cousins. She says, "It was a great trip."
Morgan Joslin left for college on Labor Day. He is attending Louisiana Tech and is pursuing a degree in Aviation. He will be involved with the Air Force Reserve Officer Training Corps (ROTC) and hopes to be a pilot in the Air Force, upon completion of his studies. Morgan's dad, Malcolm Joslin, and his friend Tanya, followed Morgan to the campus and helped him get settled into the dorm. Morgan's girlfriend, Alexis, of Texarkana, Arkansas, accompanied them on the trip.
Brailon Joslin, son of  Landon and Laiken Joslin, was treated to a 3rd birthday party, with a Bubble Guppies theme, on Saturday afternoon, at the home of Laiken's mom, Leigh Ann. Several family members and friends were there to help him celebrate. Brailon and his brothers, Rylan and Slaiden, and their aunt Jaidyn, spent Sunday afternoon through Monday morning with us and enjoyed playing with their riding toys on the driveway and splashing in the cool hot tub.
I always need and appreciate input from my friends to help keep me informed of news in our community. If you have any news pertaining to Tira residents, past or present, please contact me, Jan Vaughn, at 903-945-2190 or 903-438-6688 or [email protected].