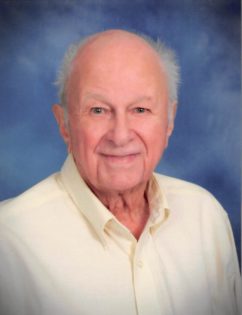 Funeral services for Raymond Dustin "Dusty" Arnold, of Yantis, will be conducted at 2:00 p.m., Wednesday, September 14, 2016 at West Oaks Funeral Home Chapel with Craig Arnold officiating. Interment will be at I.O.O.F. Cemetery in Sulphur Springs. There will be no formal visitation.
Dusty passed away on Friday, September 9, 2016 in Tyler.  He was born in January 1932 in Lynn, MA, the son of Charles Raymond and Verna Dustin Miller Arnold. He attended Northeastern University School of Engineering in Boston with a degree in electrical engineering. His first job was with General Electric in Syracuse, NY. He served in the US Army from 1956 to 1958.  He worked for Texas Instrument and later went into other fields.  He retired from HDW of Pennsylvania, where he used specialized equipment for locating cable faults.  Dusty was awarded several patents during his corporate career. He married Ruth Partridge in Danvers, MA. In 1992, he married Helen E Staten. Dusty was a member of Lake Fork Baptist Church.
Dusty is survived by son, Craig Arnold (Lucinda Hastings); daughter, Laurel Arnold Clement; son, Eric Arnold (Marci) of Plano, TX; step-daughter, DeVia Murry; brother, Roger Arnold (Aline); sister, Jane Smith; grandson, Dustin Charles Clement; step-grandson, Bradley Murry; step great-granddaughter, Shaunee Murry, and several nieces and nephews.
He was preceded in death by his parents; wife, Helen and his former wife, Mary Jo; his sister, Linda Arnold Freeman; and stepson, Frank King.
In lieu of flowers, memorials may be made to Hospice of East Texas, 4111 University Blvd., Tyler TX 75701.
Arrangements are under the direction of West Oaks Funeral Home.