With roots in the Reilly Springs community of Hopkins County, Texas and a strong background in theater from Sulphur Springs High School, Triston Pullen left for college two years ago right after high school graduation. He selected a major in Theater Direction at Santa Fe University of Art and Design, and took on minors in acting and in technical theater with emphasis on stage set and light design. Back home in Hopkins County this summer, he got right back in the Director's chair to cast a play for Sulphur Springs Community Players. The dark drama "August, Osage County" can be seen in six performances during two weekends, July 7-17, at Main Street Theater, downtown Sulphur Springs. Plan to reserve your seats online at mainsttheatre.com, by calling 903-885-0107, or at the theater at 227 Main Street.
Triston was in his first role at age 5.  He fell in love first with acting, and gained experience through childhood roles in Amanda Thompson's "Shining Star Productions", through Sulphur Springs Community Players and in high school productions.  At college, Triston shifted his major to directing and has gained opportunities to work with world renown directors who have also become mentors. At this point in his young career, he says "though I've learned a lot at Santa Fe, some of the best knowledge about directing I've ever learned has come from Dawn Doyle-Jones, my high-school drama coach and forever friend". He also admits that his early family training in polite manners and respect for others, especially his elders, has impressed people more than you would expect. The "southern small-town roots" he was raised with mark Triston as being refreshingly different. He admits he is "an old soul". He continues to battle a heart condition that cropped up during his teens, and has undergone two surgeries to address the problem. He's not letting that slow him down or rob him of his dreams.
During summer break 2015, Triston directed "A Streetcar Named Desire" on the stage of the former Reed Entertainment Theater, and it enjoyed a very successful run.  Summer 2016 holds"August, Osage County" in July as well as a Cabaret-style show in August in Sulphur Springs, with details to be announced soon. For fall, Triston has been offered an internship off-Broadway in New York City with "New Group". He takes off in early September. Good luck, Triston! If you want to wish him well for the next phase of his career path, you'll probably find him at Main Street Theater!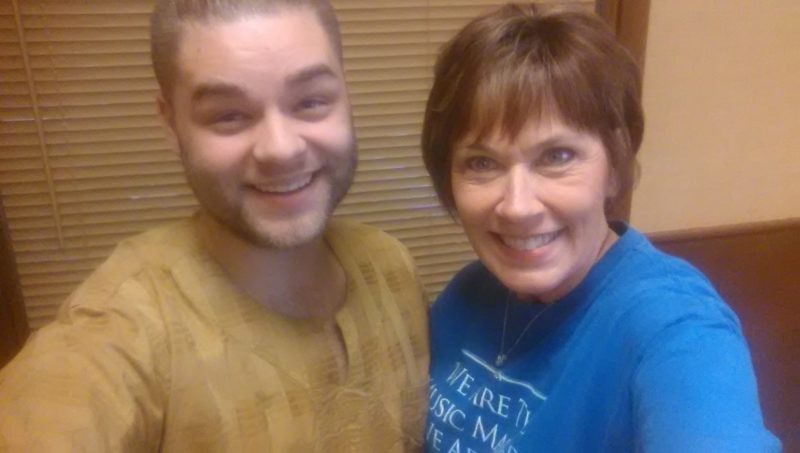 TRISTON PULLEN WITH ENOLA GAY ON THE  KSST GOOD MORNING SHOW