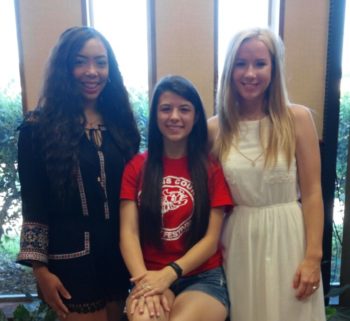 CONTESTANTS # 8 LaMIER PRYOR, #6 ANN-MARIE WINBORN  AND  #7 STORY THOMPSON
When we met the final trio of Dairy Festival Queen's contestants, we found out they are all SSHS Varsity Cheerleaders. In fact, all 8 contestants are classmates who have shared experiences over the years in academics, sports and music. They have grown even closer as friends and made fond memories through this year's Dairy Festival.
Contestant # 6 Ann-Marie Winborn  is age 17 and is the daughter of Jennifer Lansou. She loves all type of dance from pointe to modern to hip hop, winning awards in competitions and invitationals through the Ardis Centre for Dance Instruction. In school, she is historian for BPA, Vice President of National Technical Honor Society, and received an Agriculture Proficiency award in Veterinary Science. She has played on the SSHS Varsity Tennis team, and has been a cheerleader all through high school. This summer, she is volunteering at a local vet office and plans to study for a career in Veterinary Medicine.  For her talent, Anne-Marie will perform a hip-hop dance solo to "Home". Her evening gown selection is a halter-top sequined gown in shades of purple.
Contestant #7 Story Elizabeth Thompson, age 17, is the daughter of Jason and Holly Thompson. She is Captain of the SSHS Varsity Cheer Squad, Chapter President of the National Honor Society and Chapter Secretary for NTHS. She plans to pursue a career in Business after graduating from Texas A and M-Commerce. Besides cheerleading, Story enjoys youth activities at First United Methodist Church, and taking voice and ukulele lessons. She will play and sing "Somewhere over the Rainbow" as her talent. Look for Story in a sparkling coral-colored formal. Story's grandmother and cousin were former  Dairy Festival contestants.
Contestant #8 is LaMier Pryor, daughter of Leanetta Pryor. She is age 17, attends Sulphur Springs High School and loves cheerleading.  Among her others interests are hip-hop dancing, drawing, writing poetry and singing.  She will perform the song "Storm" by Mia Wright accompanied on guitar by Peyton Howard. After high school, LaMier plans to attend Blinn College, then transfer to Texas A and M to earn a Doctorate in Psychology. In the evening gown competition, she will wear a peach strapless formal.
Plan to attend the Dairy Festival Queen's Pageant on Saturday June 18 at 8pm in the Hopkins County Civic Center auditorium in Sulphur Springs, Texas. Tickets are $7 advance and $10 at the door.