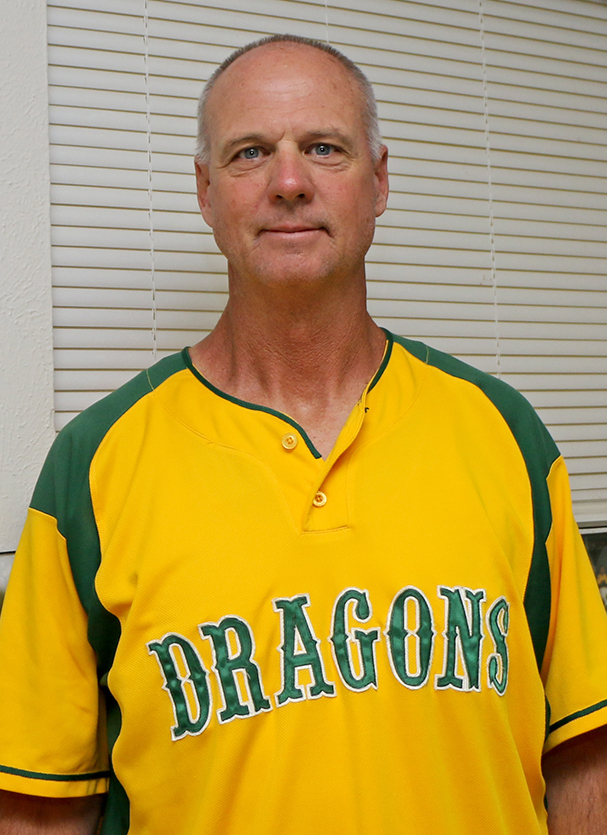 After two decades at Paris Junior College, baseball coach and athletic director Deron Clark contemplates his next step. He has accepted the position of Athletic Director for New Mexico Junior College in Hobbs, N.M.
"It's a combination of excited and sad," said Clark. "It's a strange emotion. My wife and I are both looking forward to the change and the new environment but at the same time we're leaving a lot of friends and we've enjoyed living in Lamar County and raising our children here so it'll be a bit disappointing leaving all that. In the 20 years of work here, I've enjoyed it. It's been a good situation and I've made a lot of good relationships."
Clark's career with the Dragons has included six Regional Tournament appearances, 114 players transferred – 54 of those attending NCAA Division I schools, and nine players drafted into Major League Baseball (four of those in the top ten rounds).
The achievements of his players include six All-Americans; 55 All-Conference, including two Players of the Year, two Pitchers of the Year, and two Freshman of the Year; 11 professional players, including three from Lamar County and two major league players.
There have also been14 Academic All-Americans; 35 Academic All-Conference; two Marucci Elite Hitters; one conference title; and an 82 percent graduation rate. Clark's life time career record is 577-550. He eclipsed the 500-win career mark during the 2013 campaign by defeating Eastfield College 10-0 at Hub Hollis Field.
"Coach Clark has done a great job at PJC with the baseball team and as our Athletic Director for the last two years," said PJC President Dr. Pam Anglin. "We will miss him at PJC but wish him much success as he moves from coaching to being a full-time Athletic Director at a good institution."
Clark began his coaching career in the spring of 1987 as he joined Norm Debriyn's Arkansas Razorbacks team. The team earned a fifth place finish in the NCAA College World Series. Following the 1988 season at Arkansas, Clark moved to Dallas, Texas, where he became the pitching coach for Northwood University. After three NAIA Regional Tournament appearances with the Knights, Clark then moved to San Jacinto College as an assistant coach to Chris Rupp.
Following three seasons with the Gators, Clark landed his first head coaching job with the Bulldogs of Texarkana College. Two NJCAA Regional Appearances and three seasons later, Deron earned the post as head coach of his alma mater Paris Junior College.
Clark and his wife, Saundra, have two children, Katie and Jake. From the records he reviewed, he believes he is the longest tenured baseball coach in PJC history. He's looking forward to the challenge, though he won't be coaching anymore.
"There will be six sports," Clark said, "rodeo, men's and women's basketball, women's track, golf, and baseball. I'll be fundraising and managing the athletic program. I'll miss coaching; there will be a withdrawal but I'll have to channel my energies in other directions, so that will be a fun change. At 1:00 p.m. I won't have to go to the field so I'll have to figure out what to do with that time to make it productive."
He has several thoughts for the future of the program and his successor.
"It's a good job," Clark said. "I hope that they're better than I am, do a better job, and get even better athletes in here and keep it going. It's going to continue to be successful; it's built over the last 20 years and I'm excited for what the next person will have the opportunity to do."