Three ladies who are competing for the title of 2016 Ms. Hopkins County Sr. Classic stopped by KSST for a Morning Show interview with Enola Gay. The public is invited to the pageant on Saturday night June 4 at 6pm in the Gym of Church of the Nazarene at 1300 League Street. Admission is free. All nine contestants are local ladies age 60 and older. The winner of the pageant advances to Ms. Texas Sr. Pageant this summer.
seated L. to R.  Gayle Massey. Dorothy Hawkins and Lavonne Elam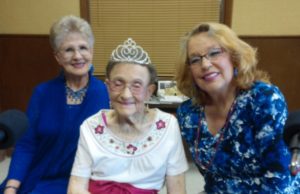 Mrs. Gayle Massey is Women's Ministry Director at Calvary Baptist Church, and she loves to sing. She is age 69, and the mother of three children and grandmother of 8. She likes to write poetry and stories. She has already written a book for each of her 3 children, and is now authoring books for each of her 8 grandchildren. Her talent presentation will be singing.
Dorothy Hawkins age 91 holds the current Ms. Rock Creek title. She is a retired elementary educator with 25 years of teaching first-graders on Travis and Lamar campuses. She enjoy sewing and growing flowers. She has 2 children, 2 grand- and 5 great-grandchildren. Her philosophy of life is to smile and bloom where you are planted.
Lavonne Elam age 70 just got her diploma from Texas A and M University in Commerce with a Bachelor of Science degree. Lavonne is the mother of 4 children and grandmother to 9. She likes music, reading, plants and people. Her talent will be a skit. Her philosophy of life is to maintain a positive, upbeat outlook on life no matter her age.