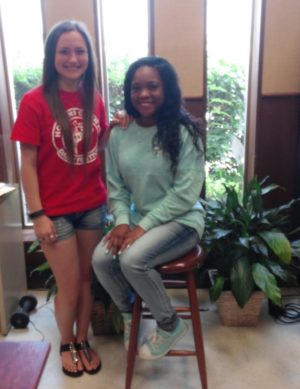 Emma Boyett and Tahtiana King appeared on the KSST Morning Show to talk about their exciting first-weekend Dairy Festival experiences,  and to talk about the Queen's Pageant coming up June 18, 2016.
Contestant #4 Tahtiana King is a Ladycat Senior at Sulphur Springs High School. She is on the Varsity Track team and standing just 5 feet tall, she is also a valuable player on the Varsity Basketball team.  Other school interests include Key Club, which she likes because members do service projects in the community and get to know different people from children to the elderly. Through her volunteerism, she feels that she is actually helping to make a difference in the everyday lives of people she meets. She attributes her ability to relate to people of all ages through her involvement as a member of the Youth Department at East Caney Baptist Church where they are like a big church family. After high school, Tahtiana plans to attend a 4-year college to pursue a career in Occupational Therapy. She comes with some experience appearing in pageants from her childhood. For the talent portion, she will perform a gospel song "He Wants It All" by Forever Jones. She will be wearing a shimmering navy blue evening gown. Her sponsors are Texas Association of Dairymen and Jay Hodge Chevrolet. Her parents are Kyshia Johnson and Marcus Johnson.
Contestant #5 Emma Boyett is 5'2″ and has blue eyes. Her parents are Oran and Jeanine Boyett. She is a Senior at Sulphur Springs High School, active in Wildcat Band, UIL, Student Council, Key Club and National Technical Honor Society. She is a Wildcat Varsity Cheerleader, cheering since Freshman year. She loves music and playing oboe in Concert Band. She's been taking gymnastics instruction for the past 8 years. Helping others is her passion, and with her mom's help began the annual Jeans for Teens Drive when she was in 7th grade, so far collecting over 5,000 pairs of jeans for teenagers in shelters. She also has donated her hair for cancer victims, assisted in tornado cleanup and in packing Meals for Multitudes. She's taking Dual Credit courses through Paris Junior College and ranks in the top 10% of her class at SSHS. With a goal to be a surgeon, Emma plans to attend Texas A and M for undergraduate studies then work toward a doctorate in Dental surgery. She is a member of South Garland Baptist Church. For the talent portions, she will play oboe to Disney's "Beauty and the Beast" with piano accompaniment by Diane Camp. Her evening gown selection is a strapless formal in ocean shades of blues and greens. Her sponsors are Southwest Dairy Farmers Museum and Texas Farm Credit.
Each of the 8 contestants are selling tickets to the Pageant at $7 each. Admission at the door will be $10 person. The Pageant begins at 8pm in the Hopkins County Civic Center Auditorium. KSST will broadcast the event live and streaming on ksstradio.com, and will record it for playback on Channel 18 TV.