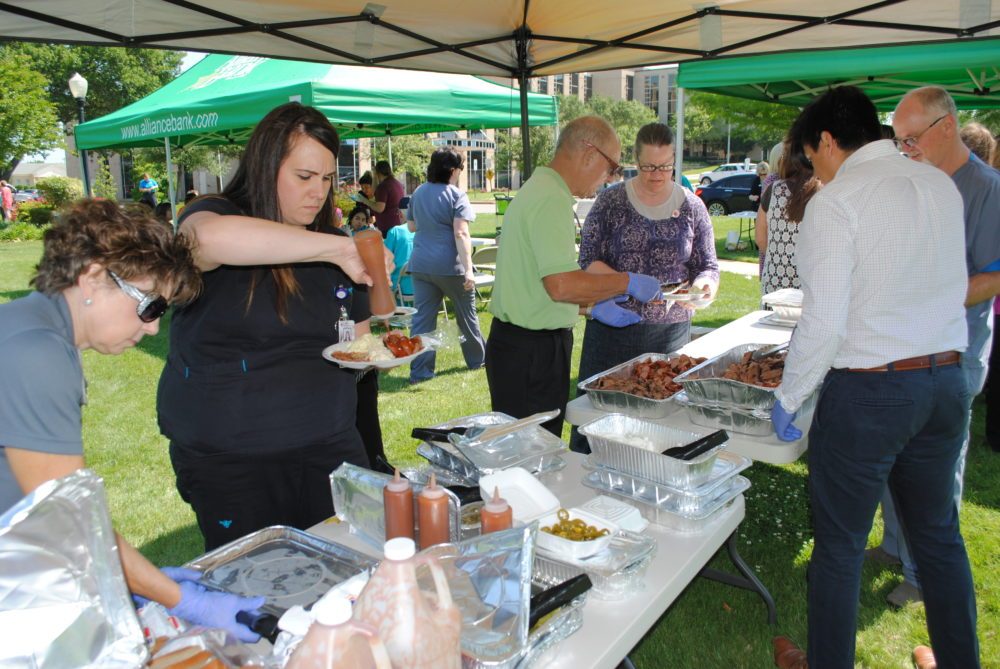 A hospital is more than a place where people go to heal, it is a part of the community that fosters health and represents hope. From providing treatment and comfort to the sick, to welcoming new life into the world, hospitals are central to a healthy and optimistic community. That's the message organizers are touting with the 2016 National Hospital Week theme "Health Care from the Heart."
"National Hospital Week, first and foremost, is a celebration of people," Michael McAndrew, CEO of Memorial Hospital and Clinic said. "We're extremely proud of each member of our staff and we recognize the important role they play in extending a sense of trust to our patients and our communities."
Events for National Hospital Week and Nurses' Week.
In honor of National Nurses' Day, the nursing staff was treated to an evening of food, fun and fellowship at Arturo's Wood Fired Pizza Gallery.
The annual health and wellness fair was held and all employees were encouraged to participate.
An employee appreciation dinner was held on Tuesday, May 10th for the hospital evening shift.
An employee appreciation luncheon was held on Wednesday, May 11th in The Gardens at Memorial.  Memorial Hospital and Clinic managers and friends from Alliance Bank served BBQ from Bodacious.  The food was provided by Memorial Hospital and Clinic Administration and Board of Directors.  In conjunction with the picnic the Hopkins County Health Care Foundation held their annual cake walk to raise funds for use by the foundation to benefit the hospital.
Friday, the annual "5 Star Performance" featuring employees of both the hospital and clinic is held.