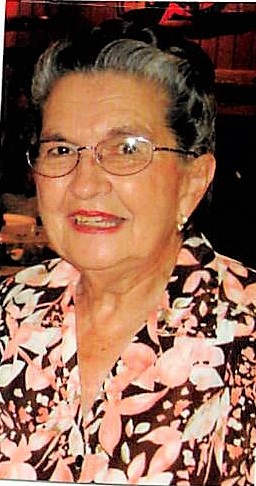 Ettie Marie Tarver Sanders died early Monday morning, May 2, 2016 at Wesley House in Sulphur Springs from complications of a stroke.
Ettie was born on December 18, 1930 in Polk County, Texas. She was the daughter of Barney Burl and Ettie Platt Tarver. She was a proud graduate of Beaumont High School, Beaumont, Texas. On Christmas Day, 1950, she married Norman Ray Sanders in Beaumont, Texas. They celebrated fifty years of marriage in December 2000. Together they ran the Texaco Distributorship in Sulphur Springs for many years. He preceded her in death October 2, 2002. They were both members of First Baptist Church.
Ettie is survived by her three children and their spouses, daughter Debbie Barrett and husband Mike, son Norman Sanders, Jr. and wife Kathy, and daughter Diana Longino and husband Steve, all of Sulphur Springs. She is also survived by grandchildren Sara Barrett of Dallas, Jessica Gamblin and husband Walt of Sulphur Springs, Josh Sanders of San Antonio, Will Longino and wife Meredith of Waco, and Travis Longino and wife Chantel of Tyler.
Great grandchildren are Cash, Sam, and Bella Gamblin and Jackson Longino. Also surviving are sister-in-laws Martha Campbell of Austin and Martha Tarver of Nederland.
Ettie enjoyed being outdoors in nature, was an avid gardener, and had a love for animals. She was known as an excellent seamstress, an expert quilter, and a former member of the Quilt Guild having worked many years in local quilt shops. Ettie was recognized as RSVP Volunteer of the year for her service at Sulphur Springs Public Library.
Cremation arrangements are made by West Oaks Funeral Home and a private family burial will be held at a later date at Mt. Hope Cemetery, Chester, Texas. No formal visitation is planned.
The family would like to thank Wesley House Administration and staff for making Miss Ettie's last year filled with kindness, compassion, and care.
Memorials may be made to: Mt. Hope Cemetery, P.O. Box 172 Chester, Texas 75936