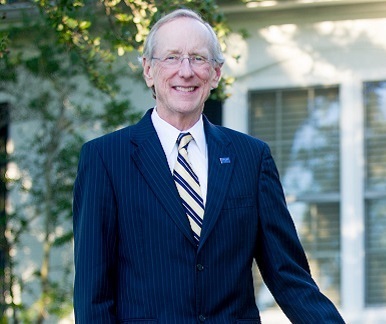 Dan Richard Jones, Ph.D., unexpectedly passed away at his home in Commerce, Texas in the early morning of Friday, April 29, 2016; he was 63 years old. Born on April 1, 1953 in Bartlesville, Oklahoma, Jones is preceded in death by his beloved parents, Richard Lavern Jones and Frances Wilson Jones of Corpus Christi, Texas.
Dan is survived by his soul-mate and loving wife of 20 years, Mrs. Jalinna James Jones of Commerce; daughter Mrs. Allyson Lee Jones and her husband Dr. Sean Ferrier-Watson of Denton, Texas; and daughter Miss Aislinn Anne Jones of Commerce.  In the final months of his life, Dan was eagerly awaiting the arrival of his first grandchild, precious Fae Ferrier-Watson, who is expected in June of this year.
Jones is also survived by his brother Dr. Thomas Wilson Jones and his wife Mrs. Doris Dreier Jones of Springfield Missouri; niece Mrs. Heather Jones Schmedinghoff and her husband Mr. Mark Schmedinghoff of Sioux City, Iowa, and their sons Timothy and Gregory; niece Mrs. Michelle Jones Breach and her husband Mr. Scott Breach of Atlantic, Iowa, and their newborn son, Benjamin. Dan's family also includes his parents-in-law Mr. Alvin King "Jolly" James and Mrs. Camella Polite James of Houston, Texas; sister-in-law Mrs. Alison James Hall and her husband Mr. Donald Fletcher Hall III, of Sugar Land, Texas, and their daughter Miss Hollan Anne Hall; and sister-in-law Ms. Alissa Anne James of Houston. He is bereaved by many cherished friends, students and colleagues.
At the time of his passing, Jones had proudly served since 2008 as the eleventh President and Chief Executive Officer of Texas A&M University-Commerce, an institution he loved, and whose students, faculty and staff were all considered family and held in the highest regard. He earned the rank of Professor of English.  Prior to this, Jones had served as Provost and Vice President of Academic Affairs at Texas A&M International University in Laredo, Texas from 2003-2008. Jones was an administrator and instructor at University of Houston-Downtown from 1985-2002, and an instructor at Casper College in Casper, Wyoming, from 1982-1985.
Jones earned a Ph.D. in American Studies from the University of Iowa in 1984, as well as a Master of Arts degree in American Studies from the same institution in 1982.  He earned a Master of Arts degree in English from Rice University in 1978, a Bachelor of Arts degree in English from the University of Texas, where he graduated with highest honors and special honors in 1975, along with a Bachelor of Journalism in Magazine Journalism, with highest honors, also from the University of Texas that same year.
Jones held a life-long passion for higher education, and had a special fondness for mentoring first-generation and at-risk students. During Jones' tenure at A&M-Commerce, which is Texas' fifth-oldest state university and one of the largest in the Texas A&M University System, university enrollment increased dramatically, and at an unprecedented rate; Texas Governor Rick Perry recognized Jones' innovation in creating the state's first competency-based degree program in 2013; and under Jones' leadership, the university created a Bachelor of Science in Nursing program in 2012, among many other projects fueled by his vision and energy. A&M-Commerce opened a campus in Rockwall, Texas as well as two new residential halls on the main campus.  Many other successful building projects marked Jones' tenure at A&M-Commerce and contributed to Jones' vision and tireless efforts to beautify the Commerce campus and create an inviting, traditional environment to promote scholarship and research as well as interpersonal fellowship and recreation. The Sam Rayburn Student Center opened in 2009 and was expanded in 2014. The university's Music Building was opened in 2011 and a new Nursing Building is in development. Jones oversaw a revival of the university's athletics programs and facilities, and was proud to be a Lion.
Jones' personal life was fueled by his love of family and close friends, and his fur-babies, both canine and feline. His perfect day would include a day of boating on Cooper Lake, accompanied by his family, a soundtrack of Texas Western Swing music and a cold Shiner Bock.  An avid runner, he had not missed a consecutive day of jogging for more than 11,000 days, since 1986.  A fan of baseball, non-fiction literature and an authentic Frito pie, Dan was a simple soul who found the most joy in his role as father, and basked with pride at the beautiful, caring, intelligent women his two daughters have become.
A small, private family service will celebrate his exceptional and influential life.  In lieu of flowers, the family requests that donations be made to the Jalinna and Dan Jones Scholarship Endowment at A&M-Commerce Foundation, P.O. Box 3425, Commerce, TX 75429.  Please make checks out to the foundation with memo field referencing the scholarship.