SSISD 2016-2017 Head Start Registration
April 11-15, 2016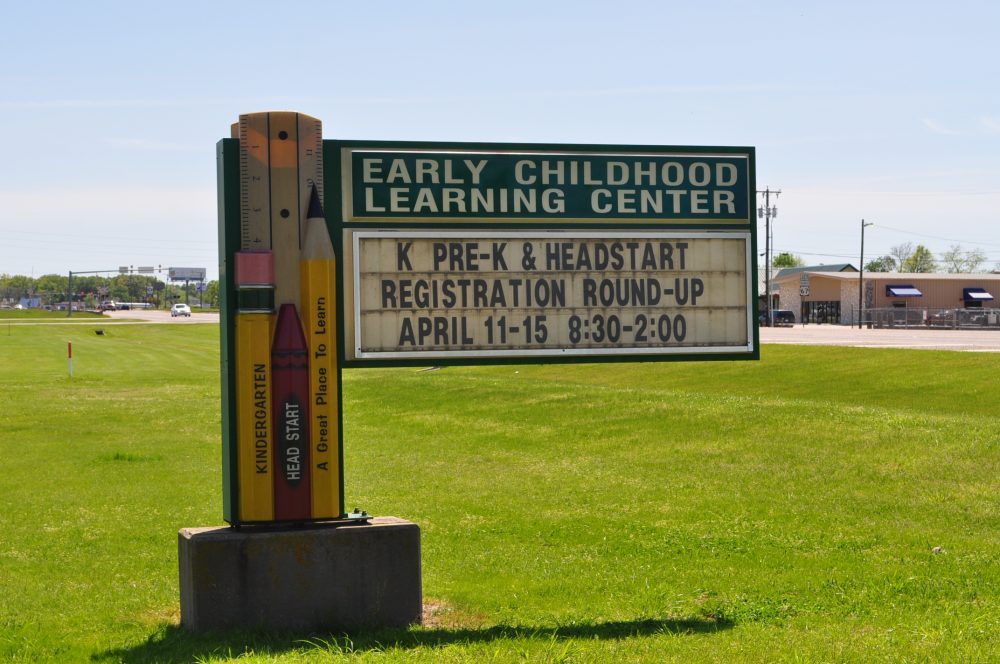 Early Childhood Learning Center
390 Hillcrest Drive
Sulphur Springs, Texas 75482
903.439.6170
The Head Start Program will be accepting applications for the 2016-2017 school year.
If your child will be 3 or 4 years of age On or Before September 1, 2016, you may complete the registration process to determine if your child will qualify for the program.
How to Register:
Head Start Registration/Round-Up will be held the week of April 11-15
between 8:30 – 2:00 @ ECLC. Parents must:
Bring all required and applicable documents (see list below) in order to register their child. Packets will not be provided if required documents are not obtained.
Schedule an appointment and complete ALL parts of the application at home
Bring completed application to scheduled appointment.
 PLEASE BRING THE FOLLOWING ITEMS IN ORDER TO REGISTER:
 Household Income — (2015 Tax Returns, 2015 W-2 Forms, or 12 months of Paycheck stub(s),
Letter from Employers if above documents are not available.  Must be on official letter head with contact information and notarized.
TANF, SSI, Child Support/Alimony, Military Documents  – LES/FSSA)
1 Proof of Residency (Electric/Water/Gas Bill, etc.)
(You must reside in the Sulphur Springs School District)
Official Child's Birth Certificate
Child's Social Security Card
Child's Up-to-date Immunization Record
Current Medicaid, Private Insurance or CHIP Card
Food Stamp card and Case #
WIC card
Foster Care Information
IEP's (Individualized Education Plan)
Dr.'s Notes Concerning Allergy/Health Needs
Custodial Documents or Court Orders
 Head Start provides the following services:
Certified teachers/assistants, two nutritional meals and a snack per day, full-day educational services, outdoor playground facilities, limited transportation services, social services, parent involvement activities, speech/hearing evaluations, health/dental screenings and accepts children with mild, moderate or severe disabilities as determined by individual needs.
Your registration packet must be filled out completely BEFORE your appointment!
SSISD 2016-2017 Registracion de Head Start
Abril 11-15, 2016
Early Childhood Learning Center
390 Hillcrest Drive
Sulphur Springs, Texas 75482
903.439.6170
El Programa de  Head Start estará aceptando aplicaciones para el año escolar 2016-2017.
Si su hijo(a) tiene 3 o 4 años de edad En o Antes de Septiembre 1, 2016, Ud. puede completar el proceso de registración para determinar si su niño(a) califica para el programa.
Como Registrar:
Registro de Head Start se llevara a cabo la semana del 11 al 15 de Abril entre las 8:30-2:00 en la escuela de ECLC.  Los padres deben:
Traiga todos los documentos requeridos y aplicables (véase la lista abajo) en orden para inscribir
a su hijo(a).  Los paquetes no se proporcionaran si la documentación requerida no se trae.
Programar una cita y completar TODAS las partes de la aplicación en casa
Traer la aplicación completa ala cita programada.
 POR FAVOR TRAIGA LOS SIGUIENTES DOCUMENTOS PARA REGISTRAR:
Ingreso Familiar — (Devoluciones de Impuestos (2015 Tax Returns), Formularios W-2 2015, o Talones de Pago(s) por 12 meses, Carta del Empleador.  Tiene que ser carta con sello oficial, información para contactar.(notariada)
TANF, SSI, Manutención para el Niño(a)/Pensión Alimenticia,
Documentos Militares  – LES/FSSA)
1 Prueba de donde vive (Recibos de Electricidad/Agua/Gas, etc.)
(Debe  vivir en el Distrito Escolar de Sulphur Springs)
Certificado de Nacimiento de su Niño(a)
Tarjeta del Seguro Social de su Niño(a)
Record de Vacunas que estén Actualizados de su Hijo(a)
Tarjeta de Medicaid, Aseguranza Privada o CHIP Actualizados
Tarjeta de Estampilla de Comida y el Numero de Caso
Tarjeta de WIC
Información de un Niño al Cuidado (Foster)
IEP's (Plan Educacional Individualizado)
Notas del Doctor acerca de Alergias/Salud
Documentos de Custodia o Ordenes de Corte/Judiciales
 Head Start proporciona los siguientes servicios:
Maestras certificadas/asistentes, dos comidas nutricionales y un aperitivo por día, servicios educacionales por el día completo, facilidades de juegos en el patio, servicios de transportación limitado, servicios sociales, actividades para que padres participen, evaluación de lenguaje/oído, evaluaciones de salud/dental y se aceptan niños con discapacidades leves, moderadas o severas determinada según las necesidades individuales.
Su paquete de registración necesita estar completamente lleno ANTES de su cita!